A Wedding Dress Story
By Tracy Hulett
After my mom passed we had to sell her house and found her wedding dress stuffed in a plastic bag in the original box. It smelled of ammonia. We knew that her mother, Bessie Ross Shriver had made the gown for her and so we wanted to preserve it.
My mother had such a small waist when she was married that none of her daughters could fit into her wedding gown. We joke that one of her grandsons will have to marry a girl with a tiny waist. It's such a beautiful gown we hope that someone down the line will be able to wear it.
The dress was worn by mother, Emma Belle Shriver on April 10th, 1954 when she married Ernest Bartlett Hulett at the United Methodist Church in Compton, California. They had four children and were married 62 years.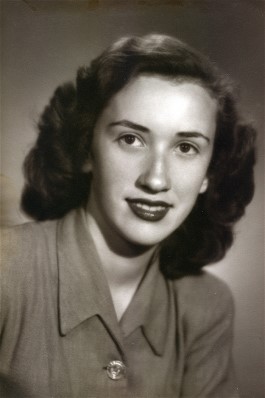 My mother was ahead of her time, believing in education and a career long before it was popular for women. After receiving her teaching degree from UCLA, she began a long career in education as a teacher, principle and eventually, after receiving additional education, the first woman president of the Association of California School Administrators "ACSA".
After more than 30 years in education, she retired in 1991 and blossomed into a grandma most kids only dream of. She traveled with devoted husband, Ernie and her grandchildren across the country taking them fishing and hiking and teaching them cooking, knitting, art and important life lessons.
My mother's middle name was Belle and she was indeed a Belle. Always poised, beautiful, charming, and elegant. Her wedding dress symbolizes the beginning of her married life and the love she gave to her family.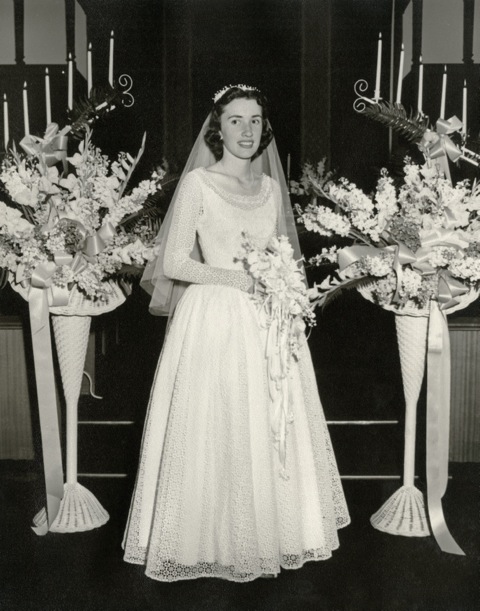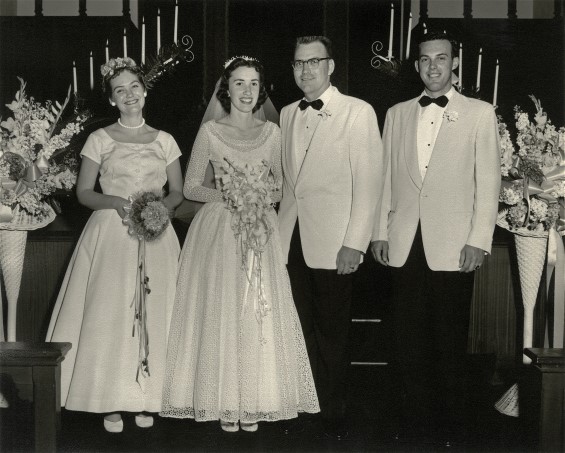 Tracy's Mother's Wedding Dress Restoration
When we received Tracy's mother's tea length dress with cotton lace overlay for wedding dress restoration it was severely yellowed from aging. The bodice was also mildly dirty.
We gave the heirloom gown a hot chemical treatment to whiten the color and remove the oxidized stains. The results were stunning. This dress is ready to be worn again, once a bride with a tiny waist come along!
We preserved her wedding dress in our Heritage Box™, which is an acid-free and lignin free box to keep it beautiful for years to come.
Do you have an heirloom wedding dress that needs wedding dress restoration? Get a free quote today for our expert services.