A Vintage Wedding Dress Story by Ginger S.
I found my mother's wedding gown in a plastic garment bag, rolled up and tucked in a plastic bin. My mother bought the dress in 1969 for $163, according to a note she stored with the dress. Jean Ellen Finn, my mother, wore this dress when she married my father, Rodger Dale Miller, in Santa Barbara, CA on November 15, 1969. My mother was a military wife, and this dress remained packed away in bags or boxes and traveled across the country for many years. She had a family to raise and ends to meet, so I'm sure that cleaning and preserving her gown was far down the list of priorities.
My mother passed away from pancreatic cancer in 2017 at the age of 71. This devastated me and changed my world forever. It took me almost four years to open this final bin of her belongings, closing this chapter of my grieving process.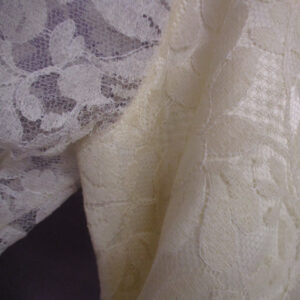 The dress was in a terrible state – very yellow, stained, odorous and torn. I felt just as worn down emotionally. We don't always take care of ourselves in times of sorrow, and I felt like that gown was a representation of my spirit – crumbled, rolled up, and tucked away.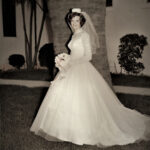 It occurred to me one night that I wanted to see this dress the way it was the day she wore it. I stared at the picture of her wedding day and looked at this sad bit of cloth in front of me and couldn't imagine it had every looked so grand. That is when I found Heritage Garment Preservation and chose to get a quote. After talking to Suzanne, I made the decision to move forward with the process to restore and preserve this gown. For me, and for Mom.
THE HGP TEAM FELL IN LOVE WITH THE ELEGANCE AND ERA OF THIS BEAUTIFUL WEDDING DRESS…SO THANKFUL THAT GINGER ENTRUSTED HER MOTHER'S GOWN TO OUR CARE.
GINGER'S VINTAGE white, synthetic wedding dress made of lace was mildly discolored with large oxidation spots along the hemline. Large, double-layered holes within the underarm area were caused by oxidation and in need of repair. The wedding dress had several holes in the hem of the tulle layer as well as discolored lace-covered buttons.
HOW DID IT TURN OUT?? Stunning…simply stunning!! Heritage Garment Preservation provided EXPERT care in restoring the wedding dress without any issues arising. The buttons were removed and replaced with matching ones; the impeccable seamstress work was completed.
NO TWO GOWNS ARE THE SAME, so our restoration process handles each gown uniquely based on its AGE, FABRICATION and CONDITION. Our team at HGP gives each dress extensive and detailed care to achieve the best possible results.
Ginger chose Average Style Gown Restoration and Preservation – Gown Age: 60-80 Years – Heritage Box Preservation – Heritage Select Package
http://www.heritagegown.com/shoppingcart/products/Average-Style-Gown-Restoration-and-Preservation.html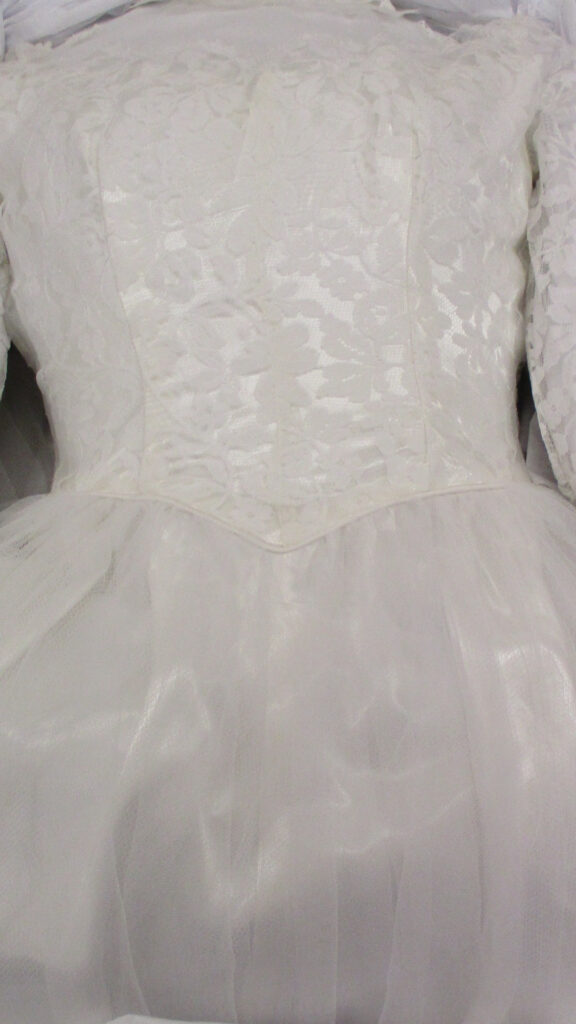 Heritage Garment Preservation is up-front about the process and costs. My Mom's wedding gown from 1969 was in rough shape. Very yellowed and stained. Absolutely beautiful job and white! Great service! – Ginger S.
I am beyond happy that I did this. The gown could be worn today – it looks that amazing. I feel like restoring my mother's gown helped heal a part of my heart. I smile every time I look at the preservation box, remembering only the good times and feeling close to my mom.
DO YOU HAVE A GOWN THAT NEEDS WEDDING DRESS RESTORATION? OR WEDDING DRESS PRESERVATION?
GOT QUESTIONS? https://www.heritagegown.com/professional-wedding-gown-restoration/
GET A FREE QUOTE TODAY: https://www.heritagegown.com/wedding-dress-cleaning-preservation-estimate/
Your estimate is Free and you are under no obligation to purchase our services.