A Wedding Dress Story
By Vivian I. Bikulege – Irene's daughter
I believe she bought it on sale in the "bargain basement" of Joseph Horne Co. for $100.She couldn't afford much. She was a working woman and financed the wedding from her own savings.
My mother – Irene Marie Sullivan wore this wedding gown on April 16,1955 when she married my father, Stanley A. Bikulege at St. Wendelin's Catholic Church in Pittsburgh, PA.
She weighed 98 lbs when she got married. She never told our family much about her dress – just that she found it and bought it herself. She had only one bridesmaid in attendance, her future sister-in-law Franny.
The dress has been in the same garment bag since that day in 1955. Every once in awhile, she'd take it out to show my sister Stacie and me. I put it in my attic in 2007 when my mom moved in with me. She passed away in 2017.
It's a gift to have the dress as a legacy to the strong, beautiful woman she was. I am so pleased you can restore the dress.
Irene was a loving mother to my brother, sister and me, her family and her grandchildren.We miss her very, very much.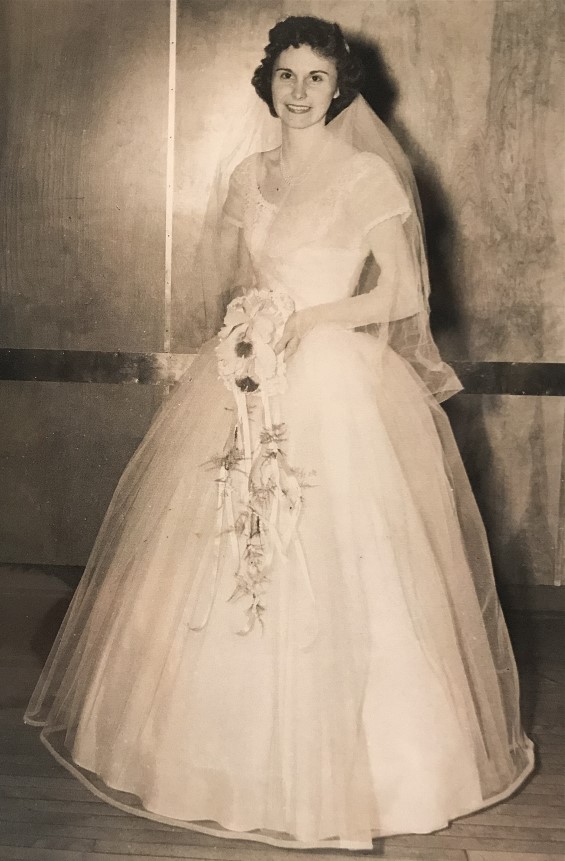 Irene's Wedding Dress Preservation
Vivian sent her mother's tulle and lace wedding dress to us for wedding dress restoration. When we received it we noted that it had yellowed significantly and the hemline was dirty. There were also some dirty spots around the arms and the skirt overlay had some dark dirt spots.
The headpiece with attached veil had moderately aged and the material on the inside was deteriorating. The actual veil had completely deteriorated.
We gave Irene's wedding dress a hot chemical treatment to whiten the color and remove the oxidized stains. We removed the buttons before treatment and replaced them afterward to prevent rusting. The results are stunning. Irene's wedding gown is beautiful once more.
After the wedding dress restoration was complete we gave it Heritage Box™ wedding dress preservation to keep it in the best condition possible.
Do you have a wedding gown that needs wedding dress restoration? Get a Free Quote today and let our expert technicians make it beautiful again.