Heritage Box Wedding Dress Preservation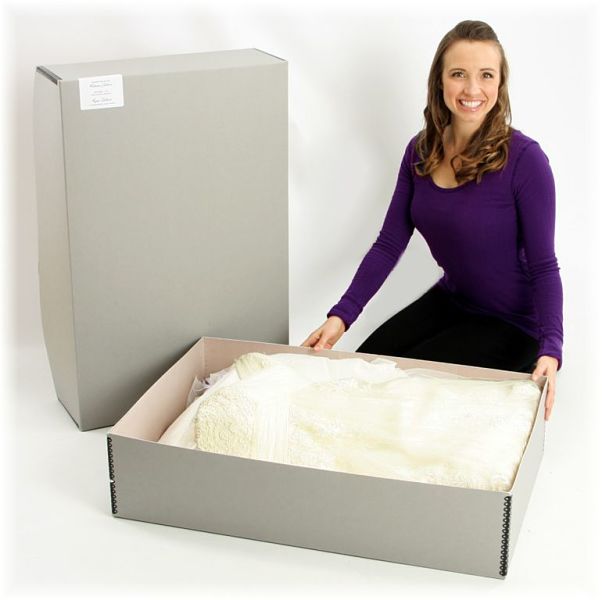 Heritage Garment Preservation uses wedding dress preservation techniques recommended by professional museum conservators. Our quality boxes are all acid and lignin free and made of the highest quality preservation materials. Similar boxes are used by fine museums worldwide.
There are also no windows in our wedding dress preservation boxes and they are not sealed so they can be opened at any time for inspection or to admire your gown. Because our boxes are larger, your gown is folded less, which helps protect it against damage from creases. But our boxes still fit under most beds. We also utilize archival intercept in each box to keep contaminants in the air from damaging your precious garments. Cotton gloves are included so you may safely handle your gown any time.
Heritage Box™ Wedding Gown Preservation
Your gown will be individually wet cleaned by hand or dry-cleaned in virgin solvent.
We hand press all garments for the best finish.
Our larger wedding dress preservation boxes means less folding of your gown

 

and fit under many beds (slim gowns use 6″ deep box; average and full dresses use 8″ deep boxes.)
Our museum quality boxes are acidfree and lignin-free providing the best protection for your gown. Similar boxes are used in fine museums for storing heirloom garments.
Our buffered boxes give added protection for most fabrics including synthetics, and many natural fibers while our un-buffered boxesprotect silk and wool better.
You can inspect or admire your gown any time because

 

all of our wedding gown preservation boxes are unsealed. Cotton gloves are included for your convenience. There are also no windows in our boxes, but you can take the lid off and refold it periodically to reduce creasing risks (recommended by museum conservators.)
Archival Intercept keeps the air inside your box pure. 
Find out your wedding gown preservation cost with a free Estimate or call 866-268-4696
to talk to one of our friendly staff members.
Individually Cleaned Wedding Gowns
The first step in our museum quality preservation is careful cleaning of your gown, with either wet processing by hand, or hand pre-spotting, followed by dry-cleaning. We prefer to wet clean garments whenever possible as we can more thoroughly remove stains, perspiration, food spills, etc. We always use virgin solvent for our dry-cleaning when this option is chosen.
Virgin Solvent is either fresh (new) or newly distilled solvent. Because of ecological regulations and expense, solvents are recycled. Filters are used to clean impurities in between cleaning loads. Impurities that are not filtered out of used solvent can be re-deposited onto garments. Periodically used solvent should be distilled, which returns it to a fresh, like new, state. Garments cleaned in dirty solvent will have a "dry clean" solvent odor. Garments cleaned in virgin solvent will have no noticeable odor at all.
Museum Quality Buffered Boxes for Most Fabrics
Polyester wedding gowns, cotton and rayon garments should be stored in acid free, buffered boxes with an 8.5 pH. Buffered boxes give extra protection against acid migration to garments and should be utilized when possible.
Our acid-free buffered preservation box is not a cheap box with an acid free coating (as many companies offer) but is sulfur free and lignin free throughout with a minimum pH of 8.5 and 3% calcium carbonate buffer. TAPPI accelerated aging tests show our buffered box will prevent acid migration for up to five centuries! Specifications for our preservation box exceed those used by the United States National Archives and Records Administration.
Manufactured by one of the most respected names in museum conservation, our boxes are used in major museums, archives and historical societies worldwide. Some historic items which have been stored in these boxes are the baseball uniforms of Babe Ruth, military uniforms of Dwight Eisenhower, gowns of Dolly Madison, and the space suits of the original Mercury astronauts.
Un-buffered Boxes for Silk and Wool Fabrics
Silk gowns and wool garments should be stored in a neutral pH environment. However, the buffering agents useful to preservation can harm natural animal fibers such as silk and wool, therefore an unbuffered box is used for these fibers. Heritage Garment Preservation's neutral pH boxes are made of inert polypropylene with no additives to achieve complete chemical stability.
Un-Sealed Wedding Dress Preservation
Museum conservators discourage sealing any garment in any container for three reasons:
Fabric weakens where it is folded. Fabric weakens in the same way that paper weakens where it is folded, so that creases from the folds may become permanent.
Inspection is critical. Periodic inspection ensures that the garment does not develop permanent damage from oxidizing stains or any other problems. The sooner problems are discovered, the more likely they can be remedied.
Sealing promotes mold and mildew. If the textile can breathe, then the humidity remains constant around the garment. If any moisture were to condense inside a storage container, it would likely develop mildew.
Museum conservators recommend keeping heirloom garments: clean, cool, dry and wrinkle-free.
Archival Intercept
At Heritage Garment Preservation, we utilize the latest technology to keep your garments in the best condition including Archival Intercept either at the bottom of the preservation box or lined in the box itself. The Intercept reacts with and neutralizes potentially harmful oxidizing gases which are present in normal atmospheric environments. Common pollutants such as chlorine and sulphur compounds and ozone are permanently bonded and neutralized by Archival Intercept.
Testing done at DuPont and AT&T Labs show the following results: A 6 mil sheet of Archival Intercept when fully exposed to the open circulating environment will bond and neutralize the common polluting gases in normal atmospheric conditions for more than 60 years. The Archival Intercept sheet will neutralize gases for a much longer period in a closed box.
Our museum quality garment preservation boxes with the Archival Intercept gives the same protection as a permanently sealed container while still allowing the box to be opened on regular occasions without compromising the protection of the gown.
We also offer an alternative hanging garment preservation called Museum Method™ wedding dress preservation.