Museums Don't Seal Garments – Neither Should You
Similar to museum heirloom dress storage, our Museum Method™ wedding dress preservation  uses a Cotton Bag Hanging method of wedding gown preservation that will keep your gown in better condition than boxing or sealing it.
Museum Method™
Wedding Gown Preservation Benefits
Your gown is easily accessible. You can inspect your gown to ensure that it has been cleaned to your satisfaction and admire it any time you like.
Your dress is protected from damage from wrinkles and creases. Fabric, like paper, is weakened from folding, often resulting in tears or permanent creases. With Museum Method creases and wrinkles are almost non-existent!
Your dress is protected from acid migration. The acid-free and lignin free tissue or cotton muslin fill (depending on which package you select) absorbs acid which could damage your gown.
Your dress fabric can breathe! Museum conservators all agree that heirloom garments need to breathe. Our cotton cover does not seal in any moisture or chemicals, thus reducing the risk of damage from mildew or chemicals.
Your wedding gown preservation bag can be personalized! You can choose to add a custom label to your preservation bag with the bride and groom's names, and wedding date and location on it. It is ironed onto the bag's front pocket to personalize it.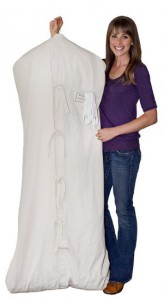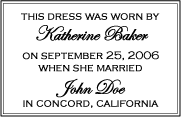 6.
Your dress is protected.
 Our
wedding dress preservation bag is made from natural, acid-free cotton,
the first choice in preservation for centuries. Our bag has no zippers that could snag or rust. It also has a pocket in front to keep the cotton gloves that we include. (You should wear these gloves any time you would like to inspect your wedding dress.)
7.
You can store a wedding photo
 and a a written story of your special day in the back pocket of the preservation bag.
8.
Strapless gowns can also be preserved
 in a preservation bag. We will sew cotton straps into the lining of the gown to hang it. And the gown is very well supported with acid-free tissue in the bodice as well.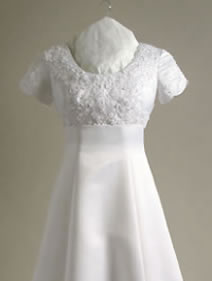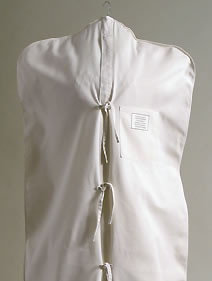 Heritage Garment Preservation
Average rating:
7 reviews
Mar 17, 2015
Gown Cleaned and Preserved
Heritage is extremely thorough in their assessment of how to take care of your dress. They were a pleasure to work with and the preservation bags are very sweet ( they customize them with your name).
Feb 21, 2015
Would Definitely Recommend
They did a great job cleaning and preserving my dress! I wanted to find a hanging option, but most I searched for only have the box option. After finding them, I called and spoke with a representative who answered all my questions and was very accommodating of my preservation timeline. I was nervous to ship it, but they sent tracking both ways, updates immediately when it was received and communicated through the whole process. Would definitely recommend.
Jan 28, 2015
Phenomenal Job
Heritage Garment Preservation did a phenomenal job caring for my wedding gown. I live in South Carolina and hesitated sending my dress to California for the service, but Carmine was very responsive and made me feel very comfortable through the entire process! I am very happy with my decision to go with the "Museum Method" for my gown. The personalization on the outside of the bag is also a nice touch. Although the service is pricey, I thought it was worth the money to ensure my gown will stay beautiful for generations. I absolutely recommend Heritage Garment Preservation!
Dec 22, 2014
Can't Imagine A Better Outcome
After the wedding my daughters dress was cleaned and preserved by a company recommended by the bridal shop where we purchased the dress. Because there were not formal portraits taken by the photographers, they agreed to take them after the wedding. Upon opening the sealed box, we found a dirty and totally wrinkled dress. After hours of ironing, pictures were taken and research began on how to get the dress properly cleaned and preserved. I found Heritage Garment online and emailed them and immediately had a response. They were incredibly helpful and professional, as is their website. They are very clear about their methods and options for preservation – none of which include sealing up the dress in a box. The dress is now in a muslin bag hanging in the closet, totally clean and pressed. Can't imagine a better outcome.
Dec 8, 2014
Well Worth the Price
I didn't trust any of my local dry cleaners with my bridal gown and veil, so I went out of town to Heritage Garment Preservation, and it was well worth the price. The customer service was excellent from start to finish, and they even came in on Saturday when they were normally closed so I could drop my dress off. They treated my gown and veil with great care and attention and preserved it beautifully in their museum-style hanging bag. I would definitely recommend Heritage Garment Preservation to anyone who cares about their gown!
Dec 2, 2014
Love the Updates
Beautiful job....gown looks brand new again! We loved the updates on their progress with the preservation. Fabulous cloth bag covering the gown, personalized, so cool.
Oct 14, 2014
Very Professional Staff
I am happy with my wedding dress preservation. The staff at Heritage Garment Preservation have been very professional and they have returned my dress in a timely manner from the time I dropped it off to them. They are very easy to work with and have been very open with advising me the best thing to do with my dress. I got my dress preserved in a museum style preservation and am very glad with my decision in choosing this vendor.