Fill in this form for an instant quote for wedding gown restoration services. Your estimate is Free and you are under no obligation to purchase our services. Comments on your form will receive a separate email to discuss those items.
Your wedding dress restoration includes: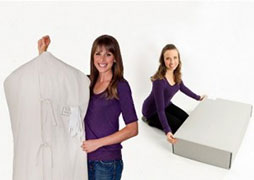 Choose Museum Method™ or
Heritage Box™ Preservation
---
Looks Like New Now

   By Joelle
Heritage did a fast, beautiful restoration on my mother's 1963 satin wedding gown. It had received water damage in a flood and had molding and yellowing throughout. It looks like new now! Thank you!
Heritage Garment Preservation
Average rating:
1 reviews
Jun 5, 2015
Mother's Dress
My daughter wanted to wear my wedding dress---I took it to Heritage Garments to see if that was possible---the dress was 37 years old and had been in a box for those years. They not only restored it to its original color---but because the dress didn't quite fit my daughter in the back--they altered it---they took out the zipper and added criss cross ties---it was beautiful---in fact the dress looked better than when I wore it. We had many compliments on the dress by the wedding guests especially when they found out it was my dress. I would highly recommend this business to anyone---they do beautiful work!!!!!!