The poofy, floor length white wedding gown with a train for miles is what little girls imagine getting married in from the time they start playing pretend. Thanks, Disney (okay.. while you're thinking about it, take this Buzzfeed quiz.
You know you want to!). Luckily the traditional wedding gown we all have an image of in our heads isn't the only option. Have you ever considered wearing a short wedding dress? Consider these 5 reasons to think about choosing a short wedding dress and maybe you'll be rocking a midi gown on the aisle come your big day!
1. Comfort and practicality  
Have you ever asked yourself how you're going to bust a move on the dancefloor at your reception while touting a 5-foot train? How can you and your new hubby get close during your first dance when your hoop skirt is keeping you 6 layers of fabric too far apart? Wearing a short wedding dress will make all of that a breeze– literally. (Not to mention that you won't have to deal with a blackened, dirty hemline you'll have to clean later!)
2. Less dress, less expense
There's no way around it– wedding dresses can be EXPENSIVE. Choosing a short wedding dress for your big day can save you hundreds of dollars! You may even be able to get to wear it again (hello– you're already wearing the perfect honeymoon-getaway dress. So Keira Knightley!). And why not show off those legs while you're at it?
3. SHOES!
Speaking of legs… in what floorlength gown are you going to be able to show off your SHOES?! A short wedding dress allows you to add a pop of color and personality to your look by acessorizing with your favorite kicks.
4. Short and to the point: unique!
Weddings are all about tradition– from the words in the ceremony to the r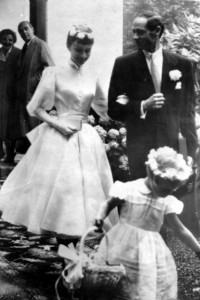 eception rituals, one person's wedding is almost identical to the next. Why not throw a wrench in the status quo and walk down the aisle in a short wedding dress? A unique dress is perfect for a destination wedding (do we hear wedding bells on the beach this summer?) or a theme wedding (the tea-length 50's wedding gown is SO classic. Admit it!).
5. Options, options, options
Ditching the long wedding gown allows you to have so many styles to choose from- mini, thigh-high, knee-length, tea-length, ankle… There are really no limits! Pick that skirt up off the floor and allow your wedding dress to be completely your own.
Check out this link for examples of short and sweet wedding dress options. If you don't mind experiencing amazing-wedding-dress-envy check out our Pinterest board! Whether you go long and traditional or short and unexpected, your wedding dress deserves to be cared for properly. Check out our cleaning and preservation process after the big day to ensure your special dress stays special for years to come.