Written by Juliana Ma Crawford
My now-husband Nicholas Crawford proposed to me on New Years in 2014. He dropped down on one knee and surprised me with a beautiful gold and sapphire ring. Thrilled and surprised, I said yes! It was a wonderful way to start off the New Year for both of us!
After trying on numerous dresses at four bridal stores in San Francisco, California, I stepped into Bridal Galleria with my parents and just when I started to feel a lost in all of the top choices I had at every store, they brought out the Anna Maier Aimee wedding dress. It was a French floral ivory lace over a nude colored double charmeuse fluted gown. When I put it on, I did not want to take it off. The dress felt one-of-a-kind, sophisticated, elegant, classical, and sexy. And that is when I knew it was the perfect wedding dress for me!
Nicholas and I got married on May 23, 2015 at Auberge du Soleil in the beautiful and verdant Napa Valley of California. We were so happy that our family and friends could be there for us on our big day! We frequently continue to recollect upon fond memories of all the little moments from that very special day in our lives.
I remember comfortably wearing this gorgeous dress with full-on confidence as I got whisked away on a golf cart down to Auberge's picturesque olive grove for our first look; while Nicholas and I made our way between rows of vineyards for our couple's photos; as my father and I walked down the aisle on the deck that faced a panoramic view of the valley; through our first dance (choreographed similarly to the exciting dance finale of Dirty Dancing's "I've Had the Time of My Life"); and up until our very last dance at the end of the evening!
This wedding dress felt second nature to who I am in every way. I am so glad I found it– in quite the same way that I am so happy to have found Nicholas nine years ago! During our wedding, countless guests admired its uniqueness and complimented its striking beauty. I really did not want to take it off after our wedding but alas, "nothing gold can stay," so I figured that it would be best if I could at least clean and preserve this beautiful wedding gift from my dear parents so I could pass it onto our future
generations.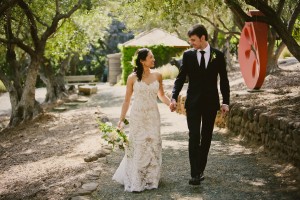 I would love it if one of our daughters or grand-daughters becomes just as enchanted with this dress enough to wear it during her wedding day, but I would be equally happy to see her wear something that suits her just as well as mine did for me!
Thanks for sharing your story, Juliana!
Like Juliana's story? Check out more unique wedding dress stories here!