A Wedding Dress Story
By Diana N.
So, everyone was shocked when I picked what we were calling "the pink dress" while I was at Bella's trying on different gowns. I am notorious for trying to be tough and never wore pink because I thought it was too girly. But, that was before I met my husband, Jesse.
Jesse and I started dating when my son was about a year old and my relationship with his biological father was extremely volatile and toxic. I was more tough than ever after that was over! Or at least I thought so. But Jesse always just loved me. I could be who I was with him and it was a very new experience. I found myself getting more and more open and soft. Soon I started doing things that I used to think were only for wimpy girls, like trying on a pink(ish) wedding dress.
The dress wasn't anything like what I had planned on wearing. I wanted a white strapless top with a tan layered shirt and Spanish lace. I had actually found a dress that met this description quite well and it was everyone's favorite. But my mind kept going back to the pink dress. I interrupted everyone's talking about what would need to be done to this other dress to say I wanted to try the pink dress on again. They all got quiet and looked at me, but got it out and I put it on again. They took one look at my face while I was wearing it and knew it was my dress.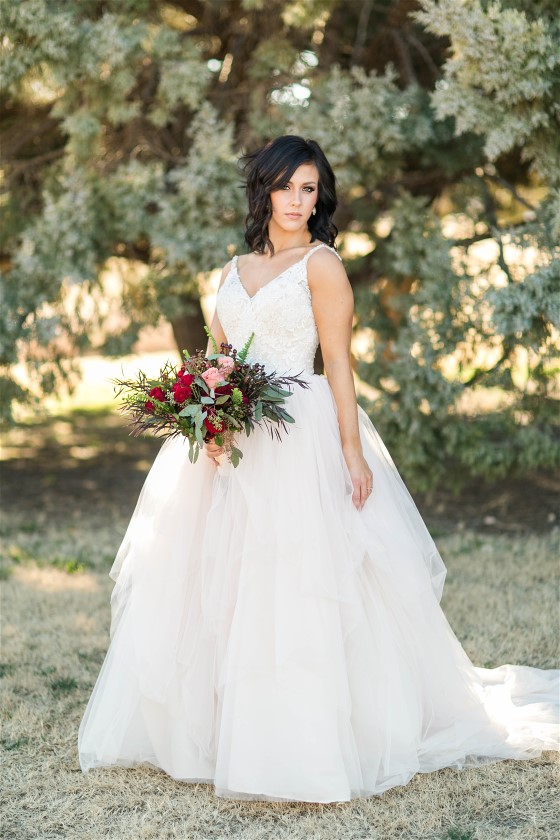 I felt like it was perfect for me, though. I like the soft warm color and the messy layers. I also loved the delicate lace details on the top and the small beads on the straps. I also loved how well it went with rose gold jewelry! I wore all rose gold accessories. But my husband is definitely the only man who could make me feel okay wearing something like it! I knew he'd just be excited to marry me, no matter what I was wearing and he always tells me how beautiful he thinks I am, even if I am looking really rough that day. I knew that just seeing me in any wedding gown would be wonderful to him! So I felt comfortable picking anything I wanted.
I had the ring my dad proposed to my mom with sewn into the skirt. They have been married for almost thirty years and having her first, small, gold engagement ring with just one modest brilliant cut diamond (my dad has since upgraded her to a massive rock) sewn into mine and my sisters' wedding gowns has become a tradition. Another tradition has been cutting a heart shaped patch out of one of my dad's old blue shirts and having it sewn into our dresses as our "something blue". I loved adding these small details. My mom sewed her ring in herself on my wedding day.
My wedding day was a very special day. The weather was perfect and everything was fun. My husband and I had just purchased our first home a few months earlier and the construction had been completed just in time for me to add a couple pieces of furniture before our wedding day. We spent our wedding night in it and that was our first night in our new house! A limo dropped us off and he carried me over the threshold while some of our neighbors who had been outside cheered and clapped for us as we went in the front door.
Three months later I found out I was pregnant with our second son, Alexander! He's almost four months old now and he and his older are already making trouble with Daddy! But I have a photograph of me in my wedding gown across from our bed above the dresser and every now and then my older son, Dominic, will look at it and just say "Mama, is that you? Wow, you pretty!" So, I think the dress was a hit.
Diana's Wedding Dress Preservation
Weddings are not spotless events, and wedding gowns often take a fair amount of abuse on the big day. Diana's wedding gown was no different. Her champagne colored wedding dress with ivory tulle overlay and lace bodice had a moderately dirty hemline when we received it. The lining and satin hem were 'fuzzy' from wear and there were also some rips in the tulle hem and small tears. This is fairly common for tulle wedding gowns. There was also makeup/spray tan on the underside of the shoulders. The satin belt and the buttons were also dirty. Two button loops were worn and stretched and we found a hole under the right arm and the lace was coming unsewn under the left.
Our expert staff got to work! We gave Diana's wedding gown a through wedding dress cleaning removing all dirt, makeup, etc. We repaired the hole and lace under the arm and the rips in the tulle hem and evened the small tear in the very bottom of the tulle hem. We repaired the holes in the tulle. We also repaired the stretched button loops and even a seam in the crinoline. We use silk thread for the repairs for minimal visibility.
After the wedding dress cleaning and repairs were finished, we gave Diana's gown a Museum Method™ wedding dress preservation. This will keep her gown in fantastic condition for years to come and she can admire it anytime she wants to.
Get a Free Quote for your wedding dress preservation today.
Click on image to see larger image