A Wedding Dress Story
By Rebeccah B.
I was married to Kendall F. at the Hast Farm in Cumberland, Maryland on May 5, 2018.
I had always pictured wearing an Art Deco style wedding dress, but I was having trouble finding a gown within my budget. Last fall while browsing online I came across a gorgeous fully beaded Deco style dress and immediately made an appointment at BHLDN in Georgetown, Washington D.C.
My mom and I went to the dress appointment and picked out a few gowns to try on. The Art Deco gown was the first dress I wore and once I saw it in the mirror I knew I had found the one. I did try on the other gowns and although each dress was undoubtedly beautiful, I put on the Naomi gown again near the end of my appointment with a veil and hairpiece and was absolutely certain that this would be my wedding dress!
I purchased the Naomi LM Collection Gown which is exclusively sold at BHLDN. The dress was a perfect fit and only needed hemmed, but I did opt to have pads sewn in. Each time I delicately tried on the dress for fittings I did notice a sequin or bead would fall off so I tried to be as careful as possible when wearing it.
Our wedding ceremony and reception were outdoors at the 64 acre Hast Farm. We were fortunate that although the weather forecast called for rain it was only sprinkling during the ceremony. It did proceed to rain during the cocktail hour and continue to pour during the reception, but our families and friends didn't seem to mind as everyone danced and had a great time.
While we were away on our honeymoon my mom researched wedding gown preservation and found Heritage Garment Preservation. I am an archivist by profession so preservation is incredibly important to me.
I've included some pictures throughout our wedding day that showcase the dress and one that shows the dirty hemline near the end of the night. I also included two photos trying on the dress at BHLDN.
Kendall had both his and the best man's kilt custom made in Scotland with the County Waterford Irish Tartan with the help of Irish Traditions in Annapolis, Maryland.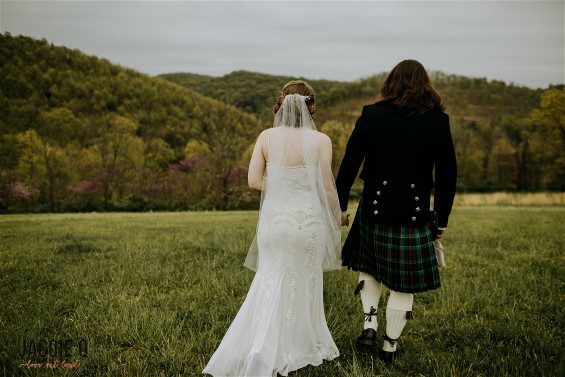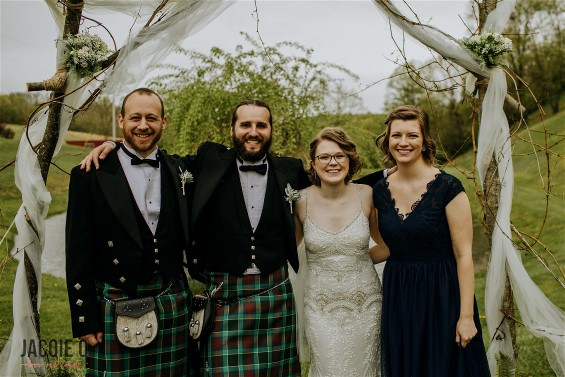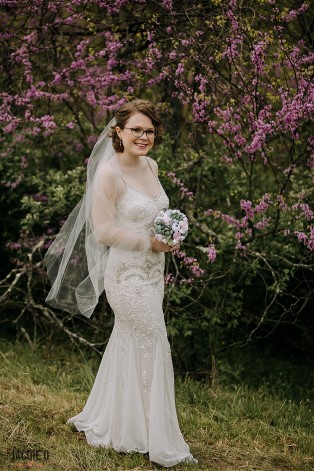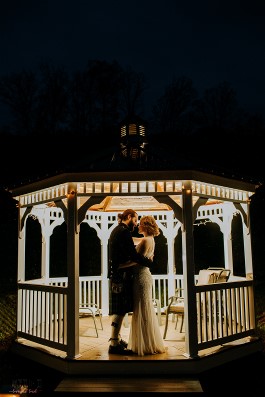 Rebeccah's Wedding Dress Preservation
Rebeccah's ivory chiffon LM Collection wedding dress is fully embellished with beading throughout the gown. Due to the rain and outdoor celebration, her hemline was a mess. The bodice was mildly dirty and there was some discoloration under one of the arm holes. Several beads were loose and missing. There were more beads missing at the hemline.
We gave Rebeccah's hemline a chemical pre-treatment and extensive wedding dress cleaning by hand. We were able to return it to pristine condition. We also tightened the loose beads throughout the dress.
Her gown is now beautifully preserved with Museum Method™ wedding dress preservation. Her friends and family will enjoy it for years to come.
Get a Free Quote for your wedding dress preservation.