This wedding gown was worn by Laurel Leigh Taylor on May 22, 2016 when she married Nicolas Cassis at The Carneros Inn in Napa, California.
The gown was purchased by Vera Wang, from the Luxe collection. It is a whimsical styled, very full wedding dress made of of silk organza ruffles. Laurel's flowers girls are adorable in similar ruffled gowns.
Laurel's Wedding Dress Preservation
When we received Laurel's dress for wedding dress cleaning and preservation,
it was in fairly good condition. The hemline was only mildly dirty but had some debris still clinging to the tulle. Tulle skirts are very prone to tears, but with the debris in the ruffles it was hard to tell if Laurel's dress had any.
We gave Laurel's Vera Wang wedding dress and thorough wedding dress cleaning by hand to keep the ruffles in the best condition. Pressing all those ruffles by hand was also a big job. Fortunately, Laurel had chosen our Heritage Couture™ package which includes hand pressing as well as repairs. So any tears in her tulle skirt could be repaired beautifully.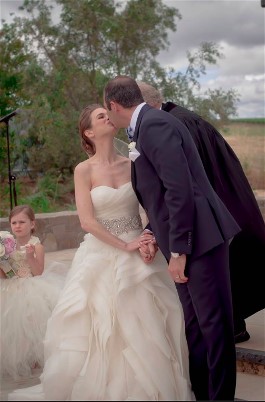 Laurel also chose our exclusive Museum Method™ wedding dress preservation, which is a hanging wedding dress preservation. This wedding gown preservation method will keep her gown in the best condition possible.
Get a Free Quote for your wedding dress preservation today.