When Elena decided to restore a vintage wedding dress to use as her own, she had little reason to believe it could ever be as beautiful as it once was. Its unique style and undeniable beauty was enough to catch her eye– she probably thought, "Is it really so bad that it's a bit yellowed? And stained…? And torn…? Uh oh." Elena took a leap of faith by sending her disaster dream dress off to be restored, but her faith paid off!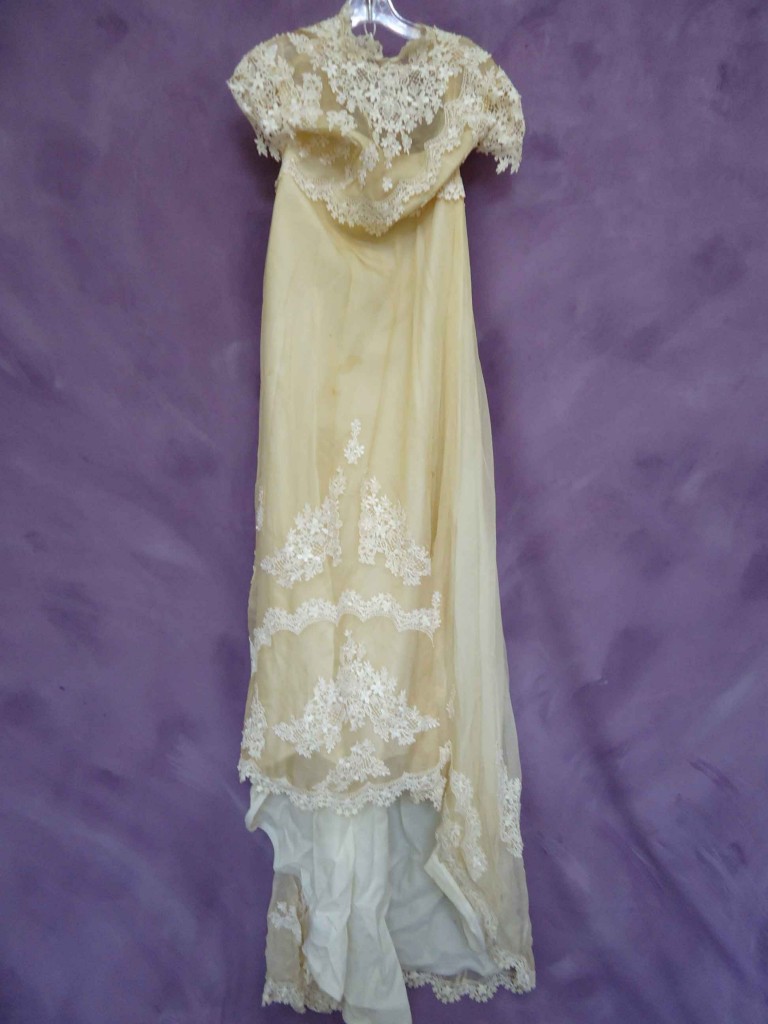 Vintage dresses are often yellowed–merely the effects of time–but this organza gown was practically orange! This time it was Heritage Garment Preservation that took a leap of faith– a gown in this condition was only expected to come out a nice off-white color, if that. However, one hand-cleaning and whitening treatment later, Elena's wedding dress returned a blinding, wedding dress white!
The other red flag elements of Elena's dress included stains, a big tear on the back of the dress, yellowed buttons too old to be cleaned, and delicate lace all over the bodice. The experts at Heritage Garment Preservation with careful wedding dress restoration were able to repair and clean Elena's dress to like-new condition, making her unique dress even more beautiful.
Few brides would have had the vision Elena did for a beat-up, old gown, but Elena's imagination (and trust in Heritage Garment Preservation) turned a disaster into the dress of her dreams.