Coni D.'s Maggie Sottero wedding gown is breathtaking! With a skirt of lace and organza alternating layer by layer and a folded lace bodice ending in a waist area embroidered with crystals and beading, this dress dress combines classic with funky! The back has a burlap bow and a brooch layered with crystals and pearls. When we received the dress, there was perspiration and make-up inside the bodice and on the underarms. Each layer of the dress had hemlines that were covered in dirt.
Wedding Gown Cleaning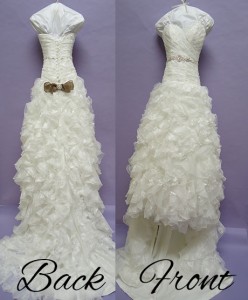 We gave Coni's wedding gown our tender loving care. We first removed the bow and hand cleaned the gown, using the wet process. We then hand pressed the gown and replaced the bow. We ended the process by preserving it with
Museum Method™ wedding gown preservation
.
Coni's wedding dress cleaning and preservation will allow her to admire her wedding gown any time she would like!