Janet Cardinell Lewis's Wedding Dress Story
I purchased the dress from Haute Bride in Los Gatos, CA. I found their site while browsing online for dresses last January. I was looking for a dress that had a very low back line. I didn't like any of the strapless styles that were most popular. I saw a on their website for a style called Minorca by Augusta Jones. I fell in love with it immediately. It looked ideal in the picture. However, when I tried on a sample in the store I wasn't happy with the neck line on the front of the dress. It was a boat neck that went straight across the collar bone. It didn't have the elegance I was looking for. Lindsie Jones, the owner of the salon, asked me to try on another style by Augusta Jones called Taima. Both styles were made of ivory silk but this style had a sweetheart front neck line with a different waist and skirt. It also had a nice low-key rhinestone belt that gave it just a bit of bling that would match a tiara I had in mind.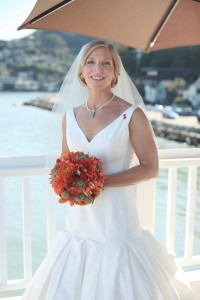 Lindsie called Augusta Jones to see if they would do a pattern split to combine the features I wanted from each dress. They were able to accommodate the changes and she took my exact measurements to size the dress patterns. The result was magnificent. I couldn't have been more pleased with how I looked in the dress on my wedding day.
The shoes I wore were the "Icy Platform Wedge" by Jeffrey Campbell. They have a 2″ platform with a 6″ heal. I chose them because I am 5'3″ and my husband is 6'1″. I wanted to be closer to his height on the alter so he didn't have to bend down to kiss me.
The red pin on my left shoulder is the "Go Red for Women" pin from the American Heart Association to promote heart disease prevention in women. I wore it in memory of my mother who died suddenly of a heart attack at age 51. I bought pins in packages of 25 and gave one to each guest as a reminder to help the women in their lives stay healthy and be present at the weddings of their loved ones.
Wedding Dress Preservation for Janet
HGP staff were thrilled to be apart of Janet's wedding by giving her gown expert wedding dress cleaning and Museum Method™ wedding dress preservation.  Our acid-free preservation supplies will help prevent yellowing so hopefully someday another bride can wear Jane's beautiful gown.