With hundreds of years of wedding gown tradition behind us, it can be hard for a bride to make her particular dress stand out. The easiest way to do this? Accessories! A unique accessory can make all the difference. Just as the wedding dress suffers sweat, food spills, grass stains, and more, however, accessories also need quite a bit of TLC (tender loving CLEANING) after the wedding!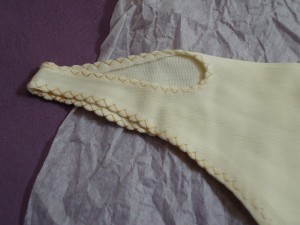 These beautiful vintage gloves came to Heritage Garment Preservation looking a little worse for wear. As expected with a vintage piece, the fingerless gloves had become quite yellowed– but time was merely an accessory to the crime (pun intended). The gloves were also splashed with some less than appealing stains and had severely oxidized threading throughout.  On top of it all, this was a RUSH ORDER. In just six days, Heritage Garment Preservation returned the gloves in better-than-new condition.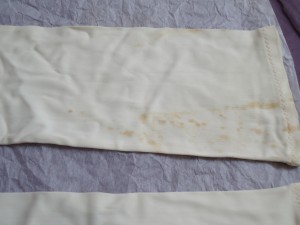 As guaranteed by our process, we are not satisfied until we are certain every stain that can be removed is removed! Luckily, our cleaning methods are tried-and-true and most importantly safe for such important pieces. The gloves were treated carefully to remove the oxidization and restore them to their original bright white coloring.
It's so easy to restore any part of your wedding day attire– even accessories! Become an accessory (c'mon, one more pun is still funny) to the murder of stains and damage by sending in your unique wedding accessory for cleaning and preservation today!