by Danica
My gown is a Casablanca Bridal, and I purchased it at Arielle Bridal in Malvern, PA. I knew exactly what I was looking for from the beginning. I wanted a beaded bodice, and a flowy, romantic, and elegant train. I tried on dozens of gowns that were almost what I was looking for, but not exactly. When I found this gown in the shop… the beading, the material, and the color of it — It seemed like it could be MY gown. When I finally tried it on, it zipped right up — perfect fit! It was so surreal– I couldn't find anything I did not like about the gown. But, I had an appointment at another bridal salon right afterwards, so we left the gown and went to the next appointment. When I walked in, the first dress I saw in the shop was the same one I had just tried on! So I brought it into the fitting room with me and hung it up. With each gown I tried on, my eyes kept coming back to that gown – my gown. We got back into the car after that appointment and I looked at my mother and said, "Mom, we have to go back to Arielle." So we did.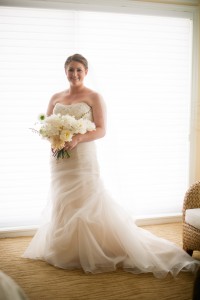 The whole experience was very surreal. I'm not a decisive person, by any means. I like to consider all of my options. But on my wedding day, that dress just felt like me. I could not have found anything more perfect to wear on the day I married Robert.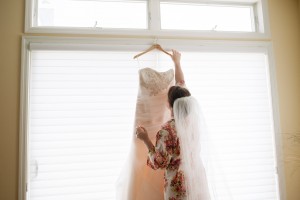 Photos by Jenny Castro –www.jennycastrophotography.com
Thanks for sharing your story, Danica! How lucky you are to know exactly what you wanted right from the beginning. 
Want to read more stories like Danica's?  Check out other amazing wedding dress stories here.