A Wedding Dress Story
By: Michelle N.
"My parents Michel & Elizabeth D. were married on July 25, 1959 in LaPorte, Indiana. My father is an immigrant from Belgium and my mother was an immigrant from the Netherlands.
My mother purchased her dress at Robertson's department store in South Bend, Indiana. Her gown is being restored as a tribute."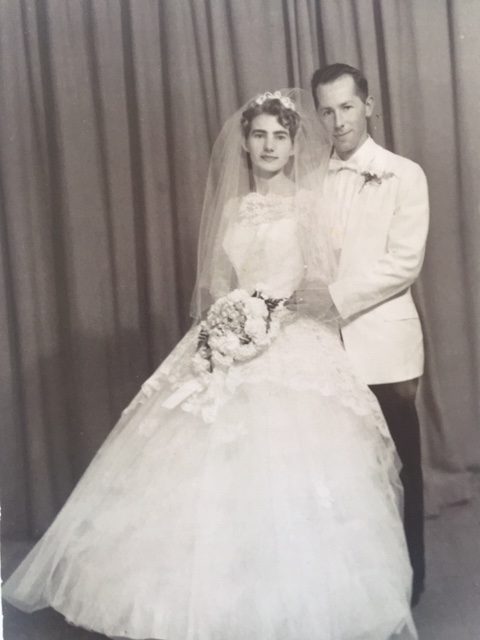 Michelle's Mother's Wedding Dress Restoration
When we received Michelle's mother's lace gown, it had moderately aged with yellowing and oxidation stains primarily at the top of the dress. A few buttons were missing from the sleeves and the gown's hook had rusted over time.
Our HGP team replaced the gown's missing buttons and the rusted hook. We also replaced the zipper, per Michelle's request. And we were able to remove the oxidation stains and restore the gown's beautiful white color.
We are so pleased with the finished product and thrilled to have been a part of restoring this gown as a tribute for Michelle's parents!
Michelle chose the Heritage Select™ package for the Average Style Wedding Gown Restoration and Preservation for her mother's gown. She then chose the Heritage Box Preservation Method™ which is an acid-free and lignin free box to keep it beautiful for years to come.
Do you have a gown that needs wedding dress restoration? Or wedding dress preservation? Get a Free quote today and let our experts take care of your dress with the same tender loving care.