Many years ago two of my cousins, sisters, were married the same day. It was the classic "double wedding."And with five daughters myself, three who are single and of marrying age, two in serious relationships, I find myself pondering the possibility of a multiple wedding often. But I recently learned about a family in Arizona who pulled off the ultimate wedding .
Five siblings of the Waldie family were married on the same day, August 10th. Wow! After planning and executing two of my own daughters weddings, I can't even imagine how they managed to get five siblings to agree on any critical details of the wedding planning. But they did!
Acording to East Valley Tribune, four of the Waldie family's eight children were engaged within three weeks of each other. Concerned about the costs of so many weddings, their father suggested a "mega wedding." A month later, their younger sister, Brooke became engaged and decided to join in. The factor that actually swayed the siblings was that one brother was about to report to Air Force pilot training in late August, and all the siblings agreed that they wanted everyone present at every wedding. There really wasn't time for five separate weddings.
"The kids wanted to put their own interests aside. They didn't want to miss being at each others' big days," Doug Waldie said.
So after many, "mega" planning sessions, the big day went off without a hitch. Kristen Waldie, mother of the five siblings, said there was "no significant trauma….Everybody was just so excited to have it all happen."
There were five separate ceremonies, one after another in the Mesa Arizona Mormon temple followed by a joint reception at the Falcon Field Air Force Museum. However, the joint reception did include five separate wedding cakes, with five different flavors, and little sister Andee, who was a bridesmaid for four of her siblings' weddings, wore a different dress and pair of shoes for each one. And thankfully, all the couples are currently on separate honeymoons!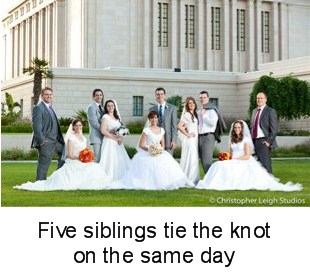 There must be a lesson for all bridezillas and harried mother of the brides here.
Certainly the stress of wedding planning including continual decision making, compromises, expense stresses can strain the best relationships. But the Waldie family chose to focus on one key element – sacrificing personal preferences to be together on their big day – as the critical component of their celebration. All the details were secondary.
And whether you have one wedding or five to plan, execute (and recover from) we'd like to help you out. Check out our many information pages:
Outdoor wedding dress selection
Wearing a vintage wedding gown
Choosing a flattering wedding dress