Last summer my younger sister got married. One of my favorite memories from the reception was watching one of the bridesmaid's mother salsa to hip hop. I have to give it to her… she has got some moves!
Planning a play list can be tricky! The bride and groom want all of their guests to enjoy the music, but how do you select music that will get multiple generations on the dance floor? Admittedly, I am so nervous over a potential awkward moment from an empty dance floor that I have considering eliminating dancing altogether!
At a wedding I attended last year (catered by Pinkberry) I was impressed by the DJ's ability to get everyone on the dance floor. The DJ opened with fun and silly love songs that most everyone is familiar with. The DJ began to incorporate some old school hip hop and R&B. Soon the music was peppered with old school classics, such as California Love and Biz Markie's Just a Friend, and some ACDC. By the time the dj played current top 40's hits, everyone had already kicked off their shoes!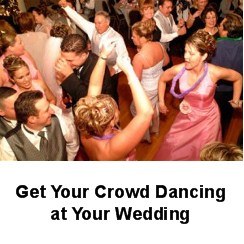 How did they do it? First, select a DJ. Use word of mouth or other rating review websites.Contact several DJs and conduct interviews to make sure that they can provide you with what you need. Next, review music and choose different pieces that will reflect you and your spouse on your special day. Throughout the night you will want the DJ to make adjustments to the tone and energy that s/he is setting.
Choose slower music to be played during the meal.
Slowly transition to more upbeat music.
Begin with popular songs that most everyone is familiar with: oldies but goodies!
Gradually have the DJ to incorporate music that gets the younger crowd going.
To give your DJ free reign may be a mistake! It is recommended to select several songs that you would like to be played and to create a list of songs that you do not want to be played. A good DJ will be able to follow the direction that you have created. By leaving some room, the DJ may incorporate other music and take requests from guests!
Listed below are several sites that have links to wedding playlists: