Since the dawn of time, we identify garment styles and place them in a historical frame. Those trends used to last for centuries, or decades. But now, thanks to the "invention" of designers and consumer demands, they only last a season.
We see the same tendency in wedding gowns. Bridal designers focus their talents in bringing new ideas, playing with different fabrics, discovering fresh embellishments, shapes and forms, to offer something new to the motivated brides who wish to "set a trend".
If we turn our eyes to British royalty, we find Queen Victoria and Lady Di who were "trend setters". Queen Victoria's style transcended beyond garments to furniture and even social behavior.  Lady Di revolutionized wedding fashion to the point that most  brides in the '80s wanted  her own volume-superlative-"Lady Di"wedding dress.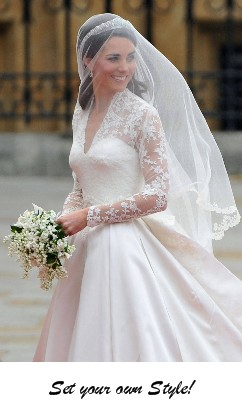 But in 2011, we saw Kate Middleton (the latest royal bride) wearing an exquisite, very elegant, but in perspective, not so "earth-shaking" dress which she helped design. She chose a dress according her own personal style and she looked incredibly beautiful and comfortable in it. She set the trend of "finding the perfect dress for yourself."
A wedding gown should be a projection of yourself, your personality, your vision of your place in the world. So find a dress that complements you, represents your view of yourself and that you feel totally comfortable and confident wearing.  Do not be afraid of thinking "outside the trend".
Regardless what everyone (including yourself) may think, your wedding dress should be only for your own pure and simple satisfaction.