I just married off my second daughter, but I have five daughters so there are three more to go. Fortunately I am learning as I go, so I figure by the time I get to number five, I should really be a pro.  But I have learned a few things so far which should help anyone who will listen!
My number one suggestion for having a stress free wedding day: Hire a wedding planner!  If you can afford it – do it.  You might be the kind of person (like myself) who rebels at the idea. You want complete control of everything and believe you can handle it all just fine.  I still recommend hiring a wedding planner if you can afford it.  That way, you can relax and enjoy the day and not be directing traffic or worrying where one of your vendors are.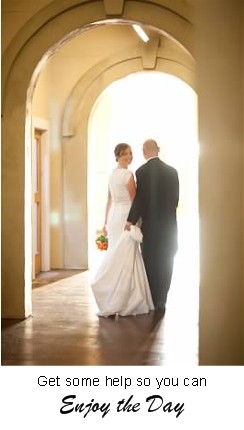 If you can't afford a professional wedding planner, consider hiring or trading services with a responsible friend to at least  handle the details of the wedding day.  Everyone knows someone who is "on it,"  someone who is a great organizer and doesn't get overwhelmed easily.  Pay them for overseeing the wedding day itself,  or arrange a swap!  Do they have a daughter?  Offer to do the same thing for them when it is their turn.
Sit down with your "day wedding planner"  at least  one week in advance with a notebook and go over every single detail you can think of :
Every vendor who has been contracted
Who is picking up what and delivering where
Who is setting up what and when
What exactly is your "day wedding planner" responsible for
Make sure your "day wedding planner" has all of the information they need so that on the big day you can focus on your own family and yourself!  You want to look your best and be relaxed!