Wedding Gowns for Outdoor Weddings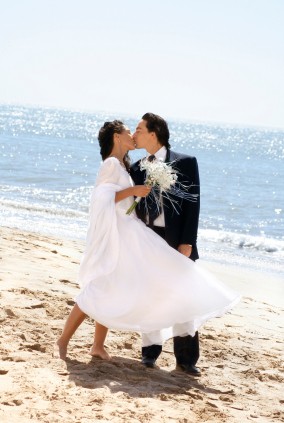 Nothing is as romantic as an outdoor wedding...
and with luck, the weather will be perfect, skies clear and just a slight breeze will be blowing on your wedding day. But, without luck? Well, you had better be prepared ...just in case. This goes for your wedding dress as well.

Think through the potential challenges incurred by the natural surroundings of your wedding location and the potential weather you may encounter. Then make a plan on how to deal with them.
Ask yourself...
What is the likelihood of rain?
What temperatures can you expect on your wedding day?
For help in answering these questions visit: weather.com/activities/events/weddings From this website you can determine the likelihood of precipitation, the average temperatures and even find the time the sun will set on your wedding day.
Dress for Comfort
Your guests can all grab a sweater if it's a cool day, but you won't want to cover up your beautiful dress. If you know it could be cool choose a dress with sleeves, a shawl or a removable jacket . You certainly don't want to spend your wedding shivering.
How about excessive heat? What about wind?If it's likely to be very warm, consider lighter weight fabrics or comfortable, breathable silk. But you should also be aware that light weight fabrics, and loose flowing dresses may be tussled about by a lot of wind. If your location tends to be windy, then a sturdier fabric and dress style would be in order.
Protect Your Wedding Gown
If you plan to clean and preserve your gown after your wedding, then you may want to take note of the potential hazards your outdoor wedding location poses to your beautiful dress. Common mess hazards from outdoor weddings include:
Grass stains
Mud
Splinters from wood patios.
If any of these hazards are likely, you may want to consider a dress made from a stable polyester bridal satin which cleans easily. Avoid organza and chiffon if you will be spending a lot of time on a wood patio, as organza and chiffon snag easily.

Beach weddings may also pose some serious risks to your gown if you decide to take photos on volcanic rock. Be aware that the black rock can leave marks on your gown that are nearly impossible to remove. Once again, a polyester dress has the best chance of getting clean after this encounter. Think twice about those photos if your dress is silk.
Don't forget to take advantage of your dress bustles when necessary to protect your gown from soiling. If you are in a hurry, just pick up your train and carry it. Remember, an ounce of prevention is worth a pound of cure.
With a little planning you can choose a dress that will be comfortable and cleanable for your outdoor wedding. Then you can more thoroughly enjoy the natural beauty of the great outdoors.
© Copyright 2013 Heritage Garment Preservation
Would you like to use this article in your ezine or web site? You can as long as you include the copyright notice above and a link to our website.