Get the Facts On Wedding Gown Cleaning and Preservation
By Katherine Wright
5 Tips To Help You Decide How To Preserve Your Wedding Gown
Cleaning and preserving your bridal gown as soon as possible ensures that your gown remains in the best condition possible. But, there are many wedding gown cleaning and preservation options available, all claiming to be the best. It can be very confusing. This wedding gown cleaning and preservation report is designed to help you make the best educated decision on the care of your wedding gown.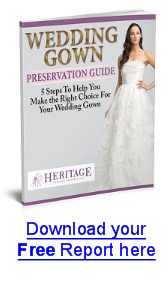 Determining the Best Gown Preservation
How do museums preserve heirloom garments?
Cleaning Bridal Gowns
Wet cleaning
Dry-cleaning solvent options
Petroleum based solvent
Essential questions to ask the dry-cleaner
Prevent Yellowing
Permanent Creasing Risks
Mildew and Mold Risks
Prevent Oxidation spots
Light and Dust Protection
Gown Preservation Options
Learn about Heritage Garment Preservation
Part 1: Why Clean and Preserve Your Bridal Gown? >>
Summary
Print Report
Click here for html print version. or Click here for pdf print version.