A few weeks ago I had a very busy wedding weekend. Saturday evening's wedding was my best friend from high school and Sunday afternoon was the big day for my boyfriend's step-brother. The weddings were 500 miles apart and aside from being burnt out jetsetters, the BF and I were grateful to be at both.
My best friend from  high school swore that she would never get married. She viewed it as out of date and unrealistic. However, after several heartbreaks and graduating from law school she was reunited with a high school crush. He had always adored her and she finally began to do the same. After dating for several years, the two set a date! He is everything a man should be: kind, good, dedicated, and loyal.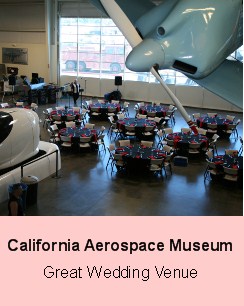 The wedding was beautiful! The couple selected a unique venue –  an aerospace museum. Period aircraft matched the era theme and classic oldies provided a subtle backdrop for the evening. The bride opted for a timeless and classic feel with a vintage inspired dress. Tears streamed down my fast as I watched my close friend begin her life with her best friend.
I felt happy for the bride knowing that she could keep a part of her special day with her forever. With Heritage Garment Preservation's wedding gown preservation, my dear friend can ensure that her dress is properly cared for and preserved so that it can be as timeless as her wedding.