We are  listed on Weddingwire.com under the Dress & Attire category because they do not have a wedding gown cleaning and preservation category.
It is nice to be acknowledged for our hard work and we thank our awesome customers for giving us such nice reviews.  If you are one of our customers and haven't left a review, we'd love your to add your comments.  There are so many places to do so…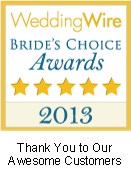 Weddingwire.com     Yelp.com    Google Reviews     theknot.com   
"And of course on our website!  Just log in to your account, select your last purchase from "Completed Orders",  select the product or service you would like to review and then scroll down below the details of the product and "write a review." Thanks so much!