Jennifer and I spent Saturday talking to brides (and their moms, fiances & best friends!) at the Wedding Expo in Santa Rosa, California. I think between the two of us we spoke with about 300 brides! Busy day. Sooo fun! The Expo is a very well run bridal show – with fabulous attendance. Everyone was very excited to be there as well.
We gave away a Free Wedding Gown Cleaning and Preservation at 4 o'clock.  Every bride that signed up for our Free Reminder Service was entered in our drawing.  Elise Douglas was our winner. Lucky Elise – her wedding is just a couple of months away.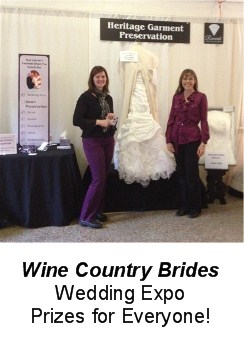 The Wedding Expo is run by Wine Country Brides who have an exceptional organization. They do a lot of things right:
Have lots of prizes- everyone  wins something
Nice layout to the show
Wide variety of booths with interesting vendors
Saturday Show – we could go to church on Sunday…yeah!
Hourly drawing for a free wedding dress!
We gave some tickets to a friend whose daughter is engaged and she and her daughter attended and won one of the wedding dresses! So awesome.
Their next show is September 22,  which is on a Sunday (darn) but will be just as fun and informational for everyone who attends.