Rowenna's Wedding Dress Strory
By Jay Thorson
My wife bought her wedding gown at a place called the "Bridal Palace" in Harwood Heights, Illinois. We were married December 10, 1983, at Augustana Lutheran Church in Chicago, near the University of Chicago campus. It was a delightfully snowy day!
My wife's maiden name was Beth G. Cunningham. We now live near Milwaukee. About a year after our wedding, I had the dress cleaned and stored in a typical preservation box. As children, I can remember our girls occasionally looking at it through the plastic window in the box.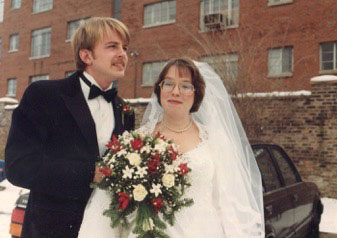 Our older daughter, Rowenna, liked the idea of wearing the dress, and since she is only a few inches taller, we thought it might work. At Christmas break from grad school, December of 2010, we got everyone together (hiding her fiancé in another room) to see what was in the box. That's when we took the photos below.
Rowenna tried the dress on – and other than being incredibly wrinkly, it fit pretty well. She took it back to Maryland, and made arrangements to get it ready for the wedding. It was altered some, and another layer of lace added to the bottom to lengthen it.
Another Wedding for the Wedding Dress
My daughter Rowenna Beth Thorson married Nathan Oesch on July 23, 2011,. at the Great Hall at St. John's College in Annapolis Maryland (where she and Nate met). It was incredibly hot outside – not ideal for a winter dress – but it was very nice to see her wear it on her wedding. I'm a Lutheran minister, so I did the wedding service as well. The reception was held in the college's very classy formal dining room, with live jazz music by friends of the bride and groom, and lots of swing dancing (in that dress!).
I'm so glad I found you folks (Heritage Garment Preservation). We will look forward to having the dress here, in a museum style bag, so we can take it out and let our grandchildren 'visit' the dress.
Thoughts on My Wedding Gown
By Rowenna Oesch
I grew up looking at pictures of my mom's wedding dress and loved the lace detailing, the long train, the scalloped neckline, the cutout in the back, the veil handmade by my mother – I just loved the dress! I always knew I wanted to wear it. I looked at a few other dresses while engaged, but always came back to this one. It was so fortunate that when I opened the box, it was not only in great condition, but fit pretty well! I had a few alterations done on the bodice and sleeves, and a layer of lace added to the hemline to lengthen it since I'm a bit taller than my mom. Otherwise, the dress was just the same.
It was a dress much more fit for my parents' December wedding, but I made it work even in the sweltering Maryland midsummer heat.