A Wedding Dress Story
By Rachel Goldstein
I probably tried on about 50 dresses, or more. There were a few that I liked, but didn't feel like any of them had enough about them that were unique in a way that I loved. I usually like things that are traditional in a sense, but with some sort of flare. I had come across this champagne blush one online and had to find it to try it on.
I called all the stores within a couple hours of me that carried Watters dresses
to ask if they had that specific one. I drove about 1.5 hours after work one day to meet a friend and see it in person.
I loved it, but then was also pretty hesitant to buy a pink dress at first – It is definitely not what I pictured myself getting married in, but then again, really didn't know what I pictured myself in anyways.
I then found it at Anthropologie's BHLDN way closer to my house, and they had a cancellation for the next morning to go see it again.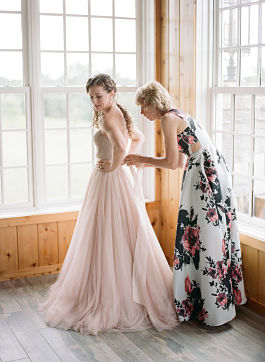 I took a couple more friends, about 25 pictures, and then warned my fiance that I might not wear white. He took a few hours to come around, haha.
Buying from Anthropologie was such a great experience – there was no waiting for the dress to "be made" – they had my size in stock in their warehouse, for several hundred dollars less, and I could return it if I really freaked out about having a blush dress. I had it within a week! The dress is also neat because the color varies depending on the amount of sunlight shining on it.
Anthropologie also carried an amazing veil that was hand painted. It was the right amount of 'off white' to blend in well with the dress, soft and flowy, and a perfect touch of unique detail from the artist. Sure, I wore it for 15 minutes, and paid $400 for it, but you only get married once right!??! Anyways, even the more plain veils were pretty expensive, so I was easily talked into it by my friends. I really do love it.
Rachel's Wedding Day
The wedding day itself was awesome – it sounds cheesy and cliche, but it really is one of the best days of your life.
We got married at this Beauuutiful venue called the Lodge at Mount Ida Farms. I wish I could live there, its just so pretty. They have mountains in the background, grand fireplaces and chandeliers – all in a barn!
We had the most amazing food, flowers, photographer – everyone was just so great. I hand painted each persons place card with watercolor to match my dress, and other colors from the wedding.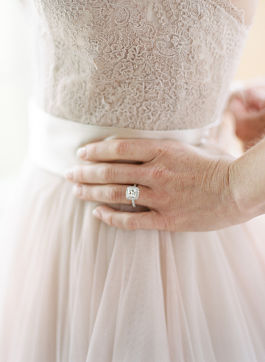 We had beef short ribs on the family style menu which were soooo good, an ice cream sundae bar and homemade pie for dessert, and a small cake just for us. There were yard games out front for cocktail hour, and then a beautiful sunset later in the evening.
Rachel's Wedding Dress Ensemble
The skirt is called the Ahsan Skirt from Watters https://www.watters.com/watters/products/ahsan-skirt
The Corset Top is the Carina Corset https://www.watters.com/watters/products/carina-corset
…both are in the rosegold-blush color
Read about the veil here… https://www.bhldn.com/product/painted-flora-veil
Rachel's Wedding Dress Preservation
It was apparent that Rachel had a wonderful wedding day as her Rosegold and Rosequartz two piece silk tulle Watters Brides wedding dress had a severely dirty hemline when we received it. And every layer of her gown had stains in the hem. Several of the layers had snags and tears that needed our tender loving care.
We repaired the tears with silk thread for minimal visibility. We trimmed the frays in the lining and gave the hemline a chemical treatment to remove the dirt. Our goal is to always return every wedding dress to the best condition possible. Our goal was successful and Rachel's beautiful dress is beautiful again.
We also gave her hand painted veil a very careful hand cleaning. Check out the photo below.
Rachel chose Museum Method™ wedding dress preservation which will keep her gown in the best condition possible. Get a Free Quote for your wedding dress preservation or any heirloom garment that you treasure.