A Wedding Dress Story
By Jamie Lovato
I married my Husband, Kenneth Lovato on May 26, 2017 at Casa Rondena Winery. I found my dress at Bridal Elegance by Darlene in Albuquerque, NM. It is a great boutique with wonderful Ladies that are so helpful and caring. Check out a few pictures of our beautiful day. Our two boys, Uriah and Nehemiah got to be apart of the festivities.
Jamie's Wedding Dress Preservation
We were thrilled to clean and preserve Jamie's lovely satin and lace Allure Bridal's wedding dress with beaded embellishments. It must have been a fun celebration because her gown had a severely dirty hemline and icing throughout the outer layer of the dress. Grass and mud stains were on the inside of the train, and the lace around the skirt was dirty half way up into the dress! We also found some tears that needed mending.
We gave Jamie's gown a thorough wedding dress cleaning including a chemical pre-treatment and extensive cleaning for her hemline. We were able to return it to pristine condition. We repaired the holes with silk thread for minimal visibility. We reattached the lace on the petticoat and re-hemmed the lining.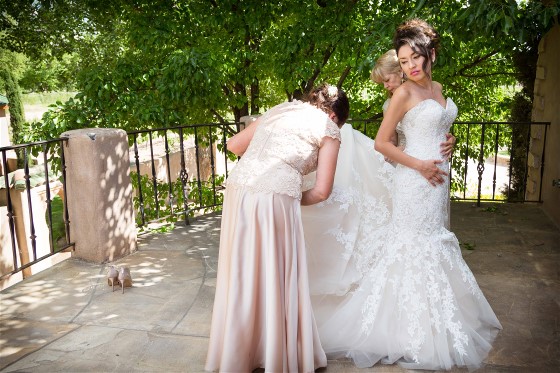 After her wedding gown was spic and span we provided Museum Method™ wedding dress preservation to keep it in fantastic condition in the future.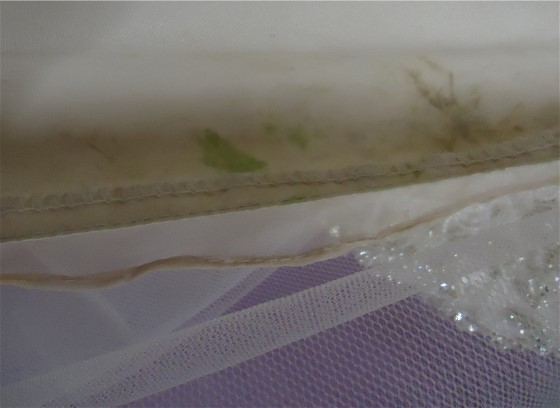 Have you given your wedding gown wedding dress preservation? Don't wait! Get a free quote today for yours.