When Victoria chose to wear a white wedding dress she began a new trend.
Prior to her marriage in 1840, brides would often wear wedding gowns of any color they wanted. Afterwards other brides soon had the arduous task of choosing between a traditional red dress or the new white dress trend.
A White Wedding Dress
Traditionally we believed that wearing a white wedding dress was a symbol of purity, but brides who chose white in the few decades after Victoria did so because it showed off their wealth. Because most colored wedding dresses could be worn any day and could hide easily blemishes, a white wedding dress would not be so conspicuous and would illustrate that it could easily be replaced with another dress.
Queen Victorias Wedding Dress
Victoria's white wedding dress was made of heavy silk satin and Honiton lace. The handmade lace pieces were applied to a net material. The dress was trimmed with orange flower blossoms, symbolizing fertility. The blossoms also made up the wreath that she wore over her veil. She describes her jewelry, "My jewels were my Turkish diamond necklace & earrings & dear Albert's beautiful sapphire brooch."
Queen Victoria and Prince Albert Love Story
Queen Victoria and Prince Albert's love story is not without some controversy or scandal. Victoria's father had passed away and his brother, King George IV, disapproved of Albert, who was Victoria's cousin through her mother's side of the family. The king wanted to set Victoria up with Prince Alexander of the Netherlands. However, after her mother's sibling arranged for her to visit Albert, she was soon smitten. She describes Albert as "extremely handsome," and Prince Alexander as, "very plain." She thanked her mother's brother for introducing her to someone who "possesses every quality that could be desired."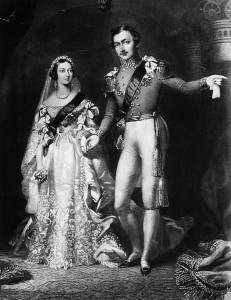 Despite her immediate attraction, Victoria did not want to rush into marriage. She soon became queen after her uncle's passing and was still required to live with her mother. However, Victoria resented her mother since she had insisted that Victoria be shut away from other children and she had spent her time with a man Victoria despised. Now as queen, Victoria considered marrying Albert so that her mother would move away, but she decided that would be foolish. Finally, three years after their initial meeting, Victoria proposed to Albert (since she was queen, he
could not propose to her).
Queen Victoria Wedding
Queen Victorias wedding
took place on February 10 1840
at the Chapel Royal, St. James's. Victoria and her 12 bridesmaids prepared for the wedding at Buckingham Palace.
A bridal procession started around noon, where a 21 gun salute announced that Victoria was entering her carriage. And even though it was raining, hundreds of people were lined up to see the wedding party. After the ceremony, officers of the household and ministers of state were invited to attend a wedding breakfast was at Buckingham Palace.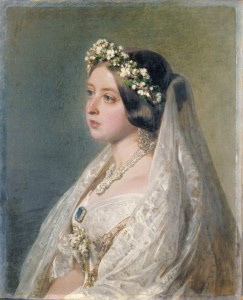 Widow of Windsor
After 21 years of marriage, Albert died from typhoid fever. This prompted Victoria to be in a state of mourning for the rest of her life. She wore black every day, avoided public appearances and rarely went into London. However, a few years later there were rumors that she was having a relationship with a servant, and that she may have had a secret marriage with him.
Queen Victorias Wedding Dress Exhibit
If you are visiting London be sure to see the Queen Victoria wedding dress exhibit at Kensington Palace called "Victoria Revealed". Other items of Queen Victoria's clothes along with many of Prince Albert's clothing are exhibited there as well.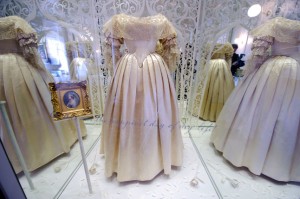 Queen Victorias Wedding Dress Exhibit
Victoria's white satin bridal shoes.
Queen Victoria's Riding Attire
Interesting Facts
Victoria's wedding was the first time in 286 years that a reigning Queen of England got married.
Because camera techniques were still being developed, photos of Victoria in her white wedding dress were taken in 1854. Victoria also commissioned an artist to paint a portrait of her in her royal wedding dress as a seventh anniversary gift for Albert.
After a few months of marriage, Victoria was pregnant and was riding a carriage with Albert, when somebody tried to assassinate her. This event prompted her immediate rise in popularity.
There were a total of seven assassination attempts on her life.
Even though Victoria hated pregnancy and breastfeeding, she had eight children with Albert.
She was the first known carrier of hemophilia. This blood clotting disorder is usually carried on the female line of families, while men are more likely to develop it. Victoria's son and three grandsons died from the disorder. When her descendants married into royal families around Europe, the disease spread into those same countries.
Biographers estimate that Victoria wrote an average of 2500 words a day during her adult life.From July 1832 until just before her death, in 1901, she kept a journal, which eventually made up 122 volumes.