We recently fell in love with Amy H.'s gorgeous James Clifford wedding gown. The embroidered details on the bodice and along the sides of the dress were the perfect touch to the classic A-line. It is lined with beads, crystals and flowers that subtly lifted away from the dress. Clearly we needed to be extra careful with the delicate appliques. The dress had make-up and perspiration inside the bodice and under the arms. There was a stain on the chest and little stains throughout the dress, including a dirty hemline.
Amy's Wedding Gown Cleaning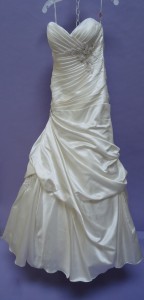 We gave our attention to Amy's dress by removing the stains with our scrupulous hand cleaning.
We spot cleaned the beautiful veil and hand pressed both the gown and veil. We preserved it with
Museum Method™ wedding dress preservation
.
Amy will now be able to admire her dress any time she would like!