We are really excited to introduce our new Premium wedding gown preservation box that absorbs and neutralizes air impurities inside the  box protecting your wedding gown or other heirloom garment from potential damage. 
Archival Intercept® is the high tech solution that does all of that!  It neutralizes oxidizing gases in the air such as ozone, carbonyl sulfide, sulfur dioxide, hydrogen chloride, nitrogen dioxide and hydrogen sulfide.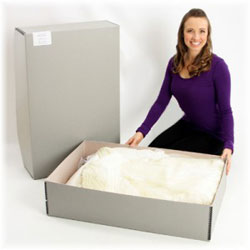 We have been using Archival Intercept® for years as a bottom sheet inside all of our preservation boxes.  We also sell it in our online store for do-it-yourself textile preservation.  However, our new Premium preservation box is lined with Archival Intercept® protection.   It's built right into the box.
Our Premium preservation box is is not recommended for silk fabrics but is great for all synthetic fabrics, as well as cotton, linen and most natural fibers.   For silk wedding gowns (or other animal fibers such as fur or leather) we will use and recommend Archival Intercept® bottom sheet along with our un-buffered preservation box.
We will be using our new Premium box for all of our customer's (non silk) wedding gown cleaning and preservation. However, we will not be selling it online, but will be selling our excellent standard Heritage Preservation Box in our online store.