A Wedding Dress Story
By Margaret N.
I fell in love with my wedding dress the moment I saw it. It was not at all the style I planned for but knew in my heart the moment I tried it on. I was transported to that little girl who dreamed of her day as a "Princess" on her wedding day.
I continued to try on another 6 dresses to be sure this was the right one!
My girlfriends that went with me knew it too, as they saw the joy on my face. It was such a good day. It was perfect, nothing else compared to it.
I bought my wedding gown in a little private wedding dress store in Bedford, Texas that sadly is no longer in business.
I am Scottish and met my husband here in Texas. We went back to Scotland to get married, so the dress went on a wonderful journey with us. We got married in Edinburgh, Scotland, United Kingdom on February 22, 1995.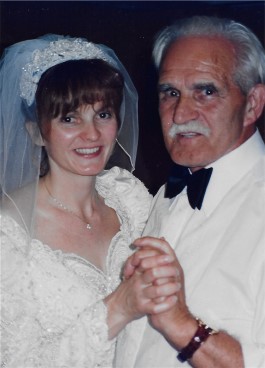 The reception was overlooking Edinburgh castle. Friends and family came from all over and we had the most wonderful day. It was traditional Kilts for the men so my husband wore a token tartan "vest". He could not quite bring himself to wear "the Kilt"….which made us smile. Not something a non Scottish man feels comfortable doing regardless everyone looked handsome.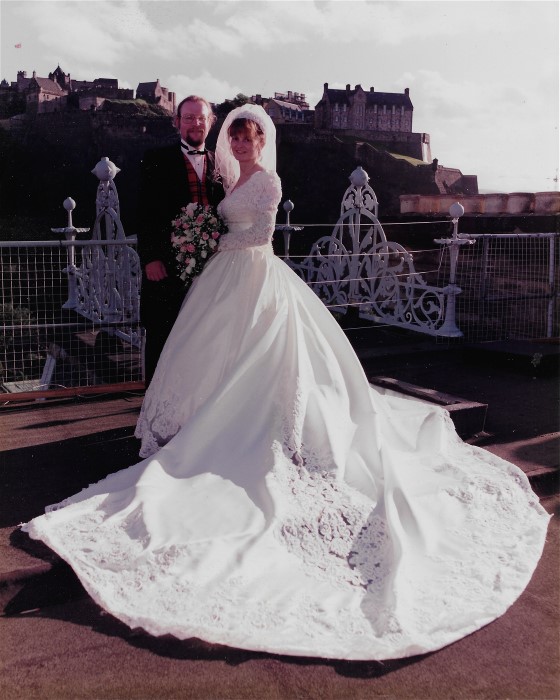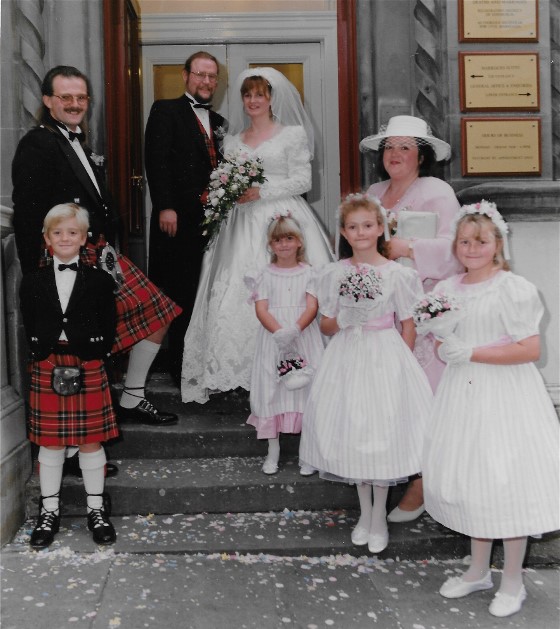 Margaret's Wedding Dress Restoration
We loved the amazing bead work on Margaret's dress. Her gown is a vintage satin wedding dress with embellished Alencon lace that had yellowed in the satin and heavily yellowed in a few spots of the Alencon lace. The bodice beads had oxidation inside them and there was oxidized spots throughout the gown, but on the train especially (see photos below.)
We gave Margaret's wedding gown a hot chemical treatment to whiten the color and remove the oxidized stains. Oxidized spots do not come out with a regular cleaning. There was also a tear in the netting and we repaired. We also tightened several of the loose beads.
Margaret's wedding dress is stunning again and ready for a new bride to wear. Get a Free Quote and then order wedding dress restoration for your vintage wedding dress.
Wedding Dress Restoration Photos
Click on Photo to see enlarged.