by Lisa
THE GOWN: Purchased at Curvaceous Couture. THE VEIL: My mom made the antique gown into the veil. THE WEDDING: Cambridge,  Maryland.
THE STORY
Lisa fell in love with the first gown she tried on.  The intricate beading was perfect; the English net ballgown skirt was gorgeous.  She wanted to incorporate her mother's heirloom gown somehow, but the antique lace was far too fragile to even consider wearing. Her mother is an avid and talented  designer, sewer and quilter, and made a gorgeous chapel length veil that will now be preserved for the next generation.
After the wedding of Lisa and Curtis' dreams and the following raucous party, the newlyweds were dropped off at their house with tons of presents,  flowers and the cake, and realized neither of them had a key and were completely locked out!  After unsuccessfully waking up several family members looking for a key, and knowing they couldn't break into the house because the alarm was on, the groom realized he had a key in his tractor at a nearby farm (he is a farmer– an unexpected yet perfect match for Lisa, an attorney– so Curtis not only deals with a lot of regular dirt, but also works in chicken houses, which are incredibly smelly and dirty).  Their bridesmaid drove them to the farm, where they shoved Lisa into the truck and they drove home with the tractor still on the trailer.   The next morning, Lisa realized her beautiful gown was dirty and definitely smelled like booze and a chicken house.  Fortunately, the veil was removed following the ceremony and was safe and sound.  She and her mother decided to invest in preservation for the gown and the veil.
THE HISTORY
The Battenburg Lace was handmade in Philadelphia in the early 1900's by two sisters, Harriet Grant and Margaret Rebecca Harrison, for Harriet Grant's daughter Elizabeth. She also wore it when she married Lt. Benjamin Foulois– one of the first men to fly an army airplane. The dress was given to Elizabeth's cousin, Winifred Townley Harrison, who wore it when she married Thomas Mann Hoyle in November of 1932. Winifred's daughter Margaret Ann Hoyle wore it in December of 1970 when she married George Hickman Roberts– Lisa's parents.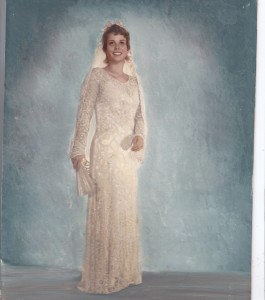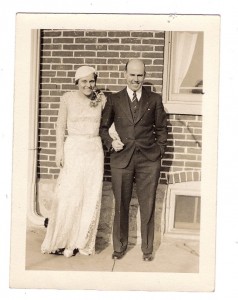 Thanks so much for sharing your amazing (and hilarious) story with us, Lisa!
Want to read more wedding gown stories like Lisa's? Read more here.