by Lindsey Rideout, formerly Lindsey Dunn
Davis Rideout and I (Lindsey Dunn, now Lindsey Rideout) got married on June 20, 2015 in South Philadelphia.
In lieu of a traditional bridal party we had our siblings stand up front with us during the service, our brothers as the groomsmen and his sister as my bridesmaid. It was the most special day of our lives.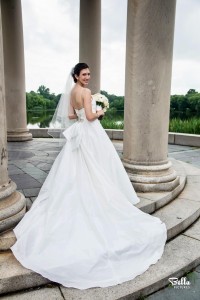 I got my dress from Bijou Bridal in Ardmore, PA. It was designed by Stefan Jolie. It is a much larger dress than I ever pictured wearing, but it looked as special as I wanted our wedding day to feel.
The bonnet was given to me as a gift at my Christening when I was a baby— 26 years ago. I wore it at the Christening and then it was packaged up and saved for my wedding day. We all had actually forgotten about it until I was thinking about what my "something old" could be. We found it, packaged up and just as it was when I was an infant. For the wedding it was wrapped around my wedding bouquet. I sent it to be cleaned so that I could one day pass it down to our children to wear at their christenings and carry in their weddings.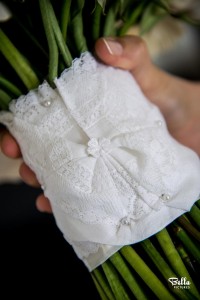 Thanks for sharing your story, Lindsey! Not only was your beautiful heirloom preserved, but the memory of your special day.
Like Lindsey's story? Check out more unique wedding dress stories here!