Have you ever watched the program Cake Boss? Buddy and his team at Carlos Bakery are geniuses! Buddy customizes each cake for the soon-to-be Mr. & Mrs. depending on their likes, interests, and tastes. His creations are amazing! Other cake decorating shows, such as Fabulous Cakes and Amazing Wedding Cakes feature equally amazing works of art.
I have always loved wedding cakes. Years ago (while not planning a wedding) I was given the Martha Stewart Wedding Cakes book. I spent hours pouring over the glossy pages appreciating each cake and the talent, work, and time put into its production.
Picking a wedding cake can be tough! After you have brainstormed style and design, it is time to come up with a budget. Bakeries may charge by the slice or by the hour and materials. It can quickly add up! Slices can range anywhere from a few dollars a slice to over $15, depending on the amount of customization that you request.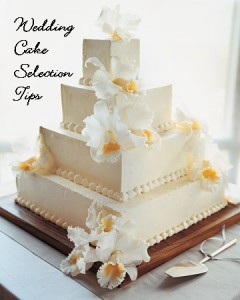 Great Martha Stewart wedding cakeYelp or Here Comes the Guide . Call or visit local bakeries and ask to see their portfolios and show them your ideas. Work with bakers and based on their talents and abilities and your budget, make a decision.
Oh wait, don't forget the taste test!