Wedding Dress Story of Robyn Orr
It is kind of crazy how much people spend on their wedding dresses. I mean you wear it for part of a day, and then there really is no reason to ever wear it again. Still, it is your wedding dress and it has got to be perfect. What that means to each person is very different, but to me it meant that it had to be beautiful and something that I personally treasured.
I didn't always have this perspective. In all honesty, one of the worst parts of the four months of wedding planning was the uncertainty I felt with my dress. This story ends well, but the process was difficult. My mom had told me that I could find beautiful dresses online from China. I went online and sure enough she was right; there were some beautiful dresses that were crazy inexpensive. I soon was sold on getting some kind of lacey mermaid dress. The only problem was that I wanted mine to have sleeves and none of them did. Not to fear though; they said that we could take the pattern of one of the dresses with sleeves and put it with the mermaid dress. I was so excited!
Well weeks past and soon we were getting  hints that something was not right. They were ignoring emails and not answering questions all the way. Granted, English was likely not their first language. But between all these methods I should have been able at some point to find out where my dress was.
Turns out, it wasn't anywhere.  We finally discovered that our payment had not reached them and so they did not make the dress.  This was six weeks after we ordered it. Needless to say, I was very angry and getting nervous about finding a dress.
My mom then found another company that created dresses from China. I was skeptical, but my mom really wanted to try it again so I agreed. We again selected a beautiful (but not lacey) dress and asked them to add sleeves to it.  We also verified that they had received our payment.
Meanwhile, my mom and I went wedding dress shopping, just in case the second attempt didn't work. We found a few beautiful dresses, one that I fell in love with which was all lace.   It was expensive, but might be possible. But we had not given up hope on the dress coming from China, but it was nice to have a back-up in case the China dress didn't work out.
A few weeks later we got the dress from china.  It did turn out nice, and it even fit but it was not the lace dress I really wanted. Also, despite the sleeves and neckline, it still was not modest enough for my needs.  The wedding was a month away and I was frustrated. We talked about buying the lace dress from the store (they had it in my size), but we were getting close to exceeding my budget. My mom thought she could make the same dress for about two hundred dollars. I really liked the idea, but we lived in different states and I wouldn't be able to try it on until two days before the wedding. What if it didn't fit just right?  I decided to go with buying the dress.
But not really. I couldn't get it out of my head that I only get one wedding dress in my life and that it would be an honor to wear something my mom created. She is a great seamstress. Also, I really was surprised how much my mom seemed to care about making it for me. She told me that if she had only a year left to live, the one thing she would want to do is make my and my sisters' wedding dresses. Granted, I wish she had this realization four months before, but despite my frustration, I was really moved that she cared so much. She is not the most sentimental person (I am) and it was kind of exciting to see her get sentimental about something that I could be a part of it. I was sold. Ten days before the wedding, I asked her to make my wedding dress!
My mom made a muslin sample based on my measurements, shipped it to me, and I tried it on while skyping with her.  My sister and I told her where to make adjustments.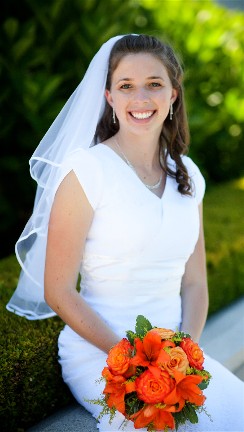 Two days before the wedding, I came home. The dress was ready for me. And it was perfect. It was long and white and the lace was gorgeous. The train was what I had always imagined. She made a few final adjustments, but it was mostly perfect. I was able to brag to all my friends and family that my mom had made my wedding dress. And that she had made it in ten days. The frustration was forgotten, and I was grateful that I finally made my own decision to have my mom make it.
What was even better was that the week  I was on my honeymoon, my mom added white intricate buttons all the way down the back and down the train.   We had a second reception at my husband's childhood home and so I was able to wear the dress with the buttons there.
The process was messy. I learned a lot about needing to make my own choices. But in reality, I was happy to spend time with my mom trying to figure out my dress. I was honored that she worked so hard on my dress and was really happy with how it turned out. My dress was perfect and contributed to how perfect my day ended up being.
After all the events wedding dress cleaning and Museum Method™ wedding dress preservation returned my gown to like new condition and will keep it lovely for years to come.