We cover many topics on our blog including wedding planning, wedding gown restoration, preservation products, and now wedding dress stories.  We would love to add a blog article about you and your wedding dress. 
Just answer a few questions about your dress or send us a whole blog article!  We would also love some photos of you in your wedding gown to share online as well.  We may decide to add some before and after pictures of the cleaning process when we clean your wedding gown.
We will give you an archival copy of your wedding dress story, as a keepsake to show our appreciation. It will be printed on acid-free paper, in an acid-free photo page to store with your wedding gown.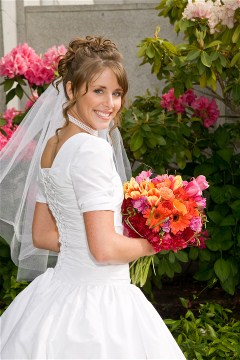 To get started just answer some of the questions below:
How did you find your wedding gown? Was it love at first sight? Who helped you select it? Who altered it? Is it an heirloom gown? If so, who wore it before and why is it special to you? Did you love your wedding gown? Were there any memorable events surrounding your wedding gown on your wedding day? In short, what makes your wedding gown special?

Send your story (with photos) to support@heritagegown.com and we will print it on archival paper, insert it into an acid-free photo page and enclose it with your preserved wedding gown.
Let's hear your wedding dress story!