By Kyle Ewing
I bought my dress at Kleinfeld's in New York. It is a Pnina Tornai and I knew as soon as I put it on that it was perfect for me. I was going for the vibe of "elegant whimsy" for my wedding. I wanted everything to be beautiful and elegant, but mostly I wanted it to be fun and approachable.
One of my best friends told me (after I had tried on close to 100 dresses at a half dozen galleries- many of which I liked a lot, but none of which I loved) that it was less about how I looked in the dress and more about how I *felt* in the dress. It didn't hit me until I put this dress on that I understood exactly what she meant.
This dress made me feel like skipping, laughing and dancing my way down the aisle, versus many others which were stunning, but too formal or too "glamorous." This struck the perfect balance between elegant and whimsical!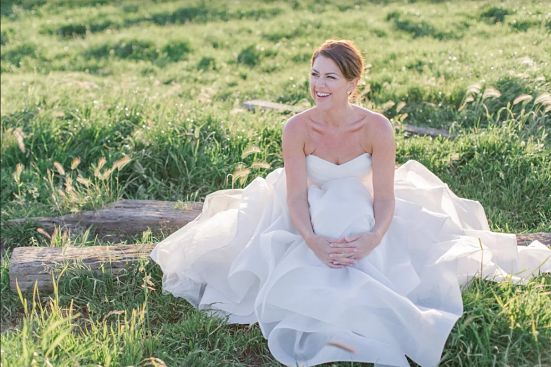 Kyle's Wedding Dress Preservation
When we received Kyle's ivory Pnina Tornai Sweetheart Ball gown in silk organza, it had a moderately dirty hemline that needed a chemical pre-treatment to remove the dirt. The bodice had makeup/ spray tan transference and there was some stains on the inside of the dress.
Silk organza is a delicate fabric and very absorbent, so it retains stains and removal can be difficult. We used extra care in the hand cleaning to prevent damage to the fabric.
Fortunately, we were able to remove the spots on Kyle's gown and return the hemline to a spotless condition as well. While pressing the gown we noticed several seams in the horsehair that had come undone and we repaired those as well.
Kyle selected Heritage Box™ wedding dress preservation which is acid-free and lignin free and will protect her gown from environmental damage for years to come.
Get your free estimate for your wedding dress cleaning and preservation to protect your treasured gown..