For American Idol winner-turned Grammy winner Kelly Clarkson, this last fall was all about weddings. From releasing her new album and video entitled Tie It Up, to deciding to just elope, Kelly's wedding story is full of surprise and joy!
Kelly's Wedding Dress
Choosing Kelly Clarson's wedding dress was no easy task, as Kelly had three dresses she absolutely adored. When she first tried on dresses at a Vera Wang boutique, she felt like a cave woman. She explained that she was so busy with her tour and wedding planning that she just looked gross. Her friend then got really sick and the two worried that they would not be invited back.
Soon after, Kelly finally decided on a dress by designer Alice Temperley. The lace gown had long bohemian style sleeves with tiny buttons and a v-neckline. The A-line silhouette looked gorgeous with the empire waist and small train. Her dress was not a typical celebrity wedding dress. As Kelly explained, "[It] is my personality in a dress. It's sweetly damaged. A little rock and roll. A little tattered. Nothing like a princess thing!" Luckily for her, all of Kelly Clarkson's wedding dress ideas did not go unused. In fact, she used the other two gowns for her engagement photos.
For her wedding, Kelly's hair was tied loosely back and was topped with a headband by Maria Elena Hairpieces. Kelly did not have a trial run or any kind of inspiration photo before the wedding day, but her stylist, Robert Ramos, felt he had a good idea of what she wanted. She had told him to do what he thought would be best. "I wanted it to look cool and have an edge to it, but I wanted her to look beautiful and romantic at the same time."
Kelly Clarkson's Engagement
Kelly Clarkson and her husband Brandon Blackstock
(step-son of Reba McEntire) met in 2006 while rehearsing for the American Country Music Awards. But they did not start to date until six years later and in December 2012 Blackstock
proposed unexpectedly
. Kelly was hanging out at home when she thanked him for being a great guy. He then got on one knee to propose, and Kelly was caught off guard. "If I [had known] I would have worn something besides Uggs and a sweatshirt with no bra."
But Blackstock certainly planned right when it came to the ring. He proposed with a custom ring that he and Johnathon Arndt had designed together. The ring has a large yellow canary diamond, with white diamonds around it.
But like many brides-to-be, at one point Kelly lost her ring.
She was singing for the CMA Music Festival in Nashville, when she noticed that she was not wearing her ring. Her fiance was backstage and she kept apologizing to him throughout the concert.
The next day,
however, Kelly tweeted to her fans, announcing that she found her ring after panicking all night long.
The Wedding
Kelly married Blackstock in Tennessee at Blackberry Farm on October 20, 2013, where she became a step-mom to his two kids. The couple had originally planned for a larger wedding, but between releasing her new Christmas album, touring, and frustration with details leaking to the press, they decided they wanted something small. And small it was. Besides the wedding officiator, the only two guests were Blackstock's kids. The next day, Kelly announced to her fans on Twitter that she did in fact elope! Some of Kelly Clarkson's wedding pictures were put together in a video for her fans.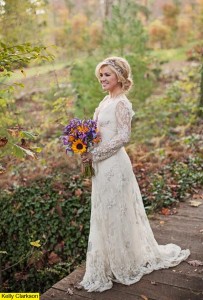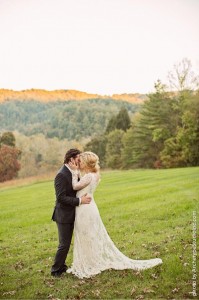 Kelly and Blackstock bought a home in Tennessee that is 17,000 square feet and is on four acres. They also are expecting a baby girl in May!
Christmas with Kelly
This last Christmas, NBC featured a holiday special called "Kelly Clarkson's Cautionary Music Tale." It was a comedic musical version of traditional Christmas morality stories, like "A Christmas Story." Dressed in a few different red gowns throughout the night, Kelly proved to her fans that she can look good in just about anything!
For More Information on Kelly Clarkson's Wedding Dress
Kelly Clarkson's wedding dress details
Kelly Clarkson wedding dress photo
More on Alice Temperley – Kelly Clarkson wedding dress designer
Kelly Clarkson Bridesmaids
Kelly Clarkson Wedding Hair
More on Kelly Clarkson
Kelly Clarkson Red Dress
Kelly Clarkson Wedding Headband
Kelly Clarkson Pregnant 2013