A Wedding Dress Strory
By Katy R.
This is the first gown I tried on, and I knew it was the one I wanted immediately. I had seen it online and went to Latter Day Bride's show room in downtown Salt Lake City to try it on.
Latter Day Bride caters to women who are planning to be married in LDS temples, where there are strict standards of dress in order to keep the focus of ceremonies on sacred things. My mom and sister came with me, and we all agreed that this was The One. My favorite feature of this gown is the lace up back. It's not a detail I've seen on many other dresses. I wore it for my wedding in the Bountiful Utah LDS Temple. It proved to be a great beginning to our life together; we've been married for almost 11 years and now have 3 children.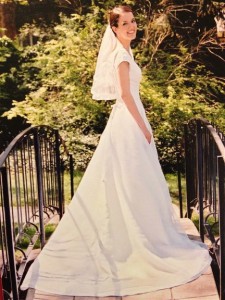 A few months later, a close friend from college (Emily) got engaged and asked to borrow the dress. Emily wore it for her wedding, also a religious ceremony, held in the Salt Lake City Utah LDS Temple. Emily is also coming up on her 11th anniversary and has 4 children.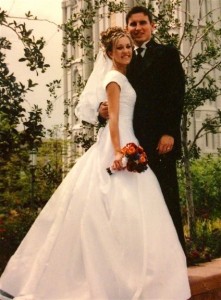 A few years following my own wedding, my younger sister, Cindy, also got engaged. She was the lucky bride number three to wear this gown at her wedding in the Mount Timpanogos Utah LDS Temple. It must have been well-made, because it survived this third wedding and looked beautiful on Cindy as well. This was another blessed beginning; Cindy and her husband recently welcomed baby number 3 into their family.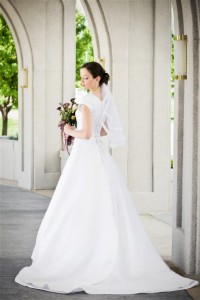 Now that the gown has been so beautifully preserved, I hope that it will someday be worn again, perhaps by one of my daughters or nieces, and it will prove to be just as lucky for them as it has been for the first three brides who wore it.