A Wedding Dress Story
Kathleen and Kerry were married 34 years ago in Leavenworth, Kansas.
It was typical at that time to have a newspaper article written to announce weddings. Also typical were bridal books which are scrapbooks of the wedding planning and wedding day.
Fortunately, Kathleen DID write her wedding dress story in her bridal book, along with a sketch of her wedding dress. She also saved the newspaper article about her big day as well.
34 years later husband Kerry arranged wedding dress restoration by Heritage Garment Preservation for his wife's gown. Their daughter is now planning to wear the gown for her own wedding. This wedding dress will be a more precious heirloom as multiple brides wear it.
Kathleen's Bridal Book Write Up
I bought my wedding dress at Custom House of Weddings on North Oak Rd. It came with a matching veil ($30.00) dress ($250.00) It had a high collar with a bow at the neck a long train. It was full with lace and white satin ribbons. It had a long lace (puffy) sleeves which elastic at the wrists.
Click on images to enlarge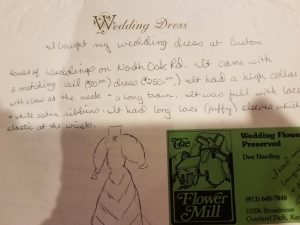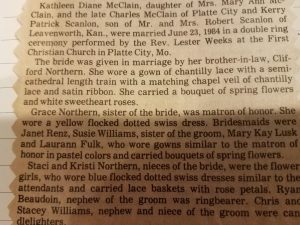 Scanlon Wedding Newspaper Article
Kathleen Diane McClain, daughter of Mrs. Mary Ann McClain and the late Charles McClain of Platte City and Kerry Patrick Scanlon, son of Mr. and Mrs. Robert Scanlon of Leavenworth, Kansas were married June 23, 1984 in a double ring ceremony performed by the Reverend Lester Weeks at the First Christian Church in Platte City, Missouri.
The bride was given in marriage by her brother-in-law, Clifford Northern. She wore a gown of Chantilly lace with a semi-cathedral length train with a matching chapel veil of Chantilly lace and satin ribbon. She carried a bouquet of spring flowers and white sweetheart roses.
Grace Northern, sister of the bride was matron of honor. She wore a yellow flocked dotted Swiss dress. Bridesmaids were Janet Renz, Susie Williams, sister of the groom, Mary Kay Lusk and Laurann Fulk, who wore gowns similar to the matron of honor in pastel colors and carried bouquets of spring flowers.
Staci and Kristi Northern, nieces of the bride, were the flower girls, who wore blue flocked dotted Swiss dresses similar to the attendants and carried lace baskets with rose petals. Ryan Beaudoin, nephew of the groom was ring-bearer. Chris and Stacy Williams, nephew and niece of the groom were candle-lighters.
Kathleen's Wedding Dress Restoration
Kathleen's vintage wedding dress is absolutely gorgeous. We love the Chantilly lace overlay that is so feminine. Her gown showed signs of her festivities and the many years it had been stored. It had a mildly dirty hemline and uneven yellowing throughout the gown when we received it. There were also orange oxidation spots on the yoke, sleeves and ruffles. Her off-White two layered lace veil and headpiece were mildly yellowed.
We removed the wire from the headpiece before restoration to prevent rusting. We replaced the wire after the treatment was complete. We gave Kathleen's wedding gown a hot chemical treatment to whiten the color and remove the oxidized stains. As you can see, the yellowing disappeared and Kathleen's wedding dress is ready for her daughter to wear.
Do you have a vintage gown that needs wedding dress restoration? Get a Free Quote today and let HGP make your gown beautiful again.
Click on images to enlarge