A phone call from a customer alerted us to a Good Morning America program in which two wedding dresses that we had cleaned were spotlighted.
The first was a very full, Maggie Sottero satin wedding gown we cleaned and preserved in June.
The second wedding dress was a white badly stained gown we treated in August.
Maggie Sottero Wedding gown Cleaning
The beige Maggie Sottero wedding dress was brought in by Deborah's husband, Jason. We love it when a husband orders wedding dress cleaning and preservation for his wife's wedding gown! What a great way to show love.
We were also glad that Jason agreed to preserve his wife's gown with Museum Method™ wedding gown preservation, instead of boxed. The wedding gown was so full, that fitting it in a box would have been very difficult which would not have been optimal for long term preservation of the gown. The gown was quite dirty, but turned out beautifully.
Wedding Gown Mess
The second wedding gown was shipped to us in August. The stains indicated that this was not your typical wedding gown. The stains themselves were not that unusual (grass, make-up, chocolate, red wine), it's just that the stains were not located in typical places.
The grass stain was on the front of the white wedding gown not the hemline. The make-up, chocolate and red wine were in specific circles on the bodice which did not appear to be random spills. Make-up, of course, is usually found INSIDE the bodice, not in a round circle on the front of the wedding gown. We found it very peculiar.
Messy Wedding Dress Cleaned
The stains were fairly difficult to remove. They were dark and set in well. Amanda, one of our wedding dress cleaning technicians set to work removing them. The make up stain proved the most difficult as it was set into the lace which was made of a more absorbent fiber than the main gown fabric. Amanda persevered with follow up spotting and the stains were completely removed.
National Recognition for Wedding Gown Cleaning
So Thursday morning after a customer alerted us to the Good Morning America program, we pulled up the morning show about wedding dress cleaning on the internet. We were pleasantly surprised to see the wedding dress we had cleaned compared to two gowns with identical stains removed from two other cleaners. We were also pleased to see that the gown we cleaned was selected as the cleanest of the three.
We work hard to achieve excellent wedding dress cleaning results. It's nice to see it pay off so well when the results make national news!
Watch Good Morning America Episode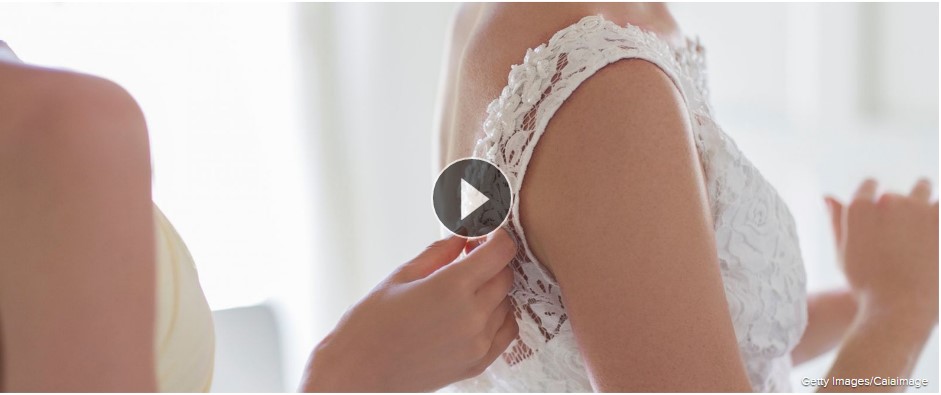 More Wedding Dress Cleaning Photos
click on images to enlarge them.