By Claire W.
My wedding dress, Fabrizia by Rivini, with matching cathedral length veil, was purchased from Trousseau Bridal in Columbus, Ohio. The owners of Trousseau Bridal, Meg and Beth, are the friendliest people you will ever meet!
We wanted our wedding to feel modern and romantic, and this wedding gown was simply perfect. All the details are stunning – the American and French Chantilly lace, the horsehair edged ruffles and the dropped asymmetric waist.
Claire's Wedding Dress Preservation
Claire's Rivini ivory wedding gown with lace bodice and full skirt of tulle ruffles
and horsehair edging was in fairly good condition when we started to work with it. Like most wedding gowns, it had a moderately dirty hemline. There were a couple of tears in tulle at hemline that needed our attention.
Fortunately, Claire had chosen our Heritage Couture™ package, which includes several hours of repairs, hand cleaning and pressing. We used silk thread, which is very transparent to stitch up the hemline tears.  All repairs were done by hand. A thorough cleaning (also by hand) returned the hemline to pristine condition. The  ruffles were hand pressed for the best finish.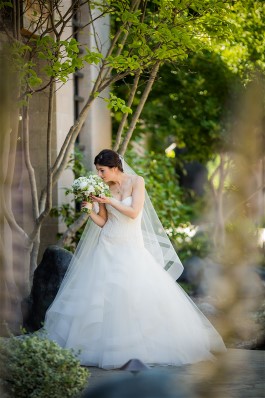 Claire's wedding dress truly looked new again after our skilled technicians worked their magic. Museum Method™ wedding dress preservation finished the job and will keep her gown in lovely condition for years.
Get a quote today for your wedding dress preservation.
Thanks to Napa based T.J. Salsman photography!