Who thought that wedding ambiance may later require bridal gown restoration! 
 One customer's wedding venue included a beautiful fireplace.  A glowing fire added to the atmosphere of her special evening.   What she didn't count on was a spark from the fireplace landing on her lovely wedding gown.
Wedding Dress Repair Needed
So it is Heritage Garment Preservation to the rescue!  Carmina, our expert hole and snag technician did a great job on this wedding gown restoration.  The bridal gown hole was about 5/8 inch diameter.  Carmina took a small piece of fabric and  repaired the hole completing the wedding dress restoration.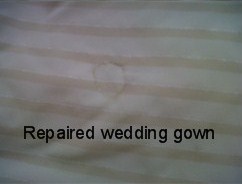 Bridal Gown Restoration Completed
If you look closely you can see the wedding dress repair.  Fortunately the hole was small  and the wedding dress fabric has a stripe in it which helps camouflage the wedding dress repair.   Also, fortunate for her is the wedding dress has layers of folds to hide the repair as well.  So the overall appearance of the bridal gown is still lovely.
Wedding Gown Restoration Always Available
So don't panic if the worst case scenario happens, there is usually a remedy of some kind available here at Heritage Garment Preservation.  Our  technicians are trained in…
And occasionally a new bride needs her wedding dress repaired.   Fortunately, our expert bridal gown restoration staff can clean or repair almost any kind of "wedding day souvenir"!