A Wedding Dress Story
By Hannah H
I came across Carol Hannah's two-piece Anthorium skirt set on Pinterest years before I had any intention of getting married but I saved it to my secret wedding board, just in case. When my (now) husband and I got engaged, we were living in New York City which conveniently is where Carol Hannah's studio is. I reached out to schedule an appointment and told them what I was interested in. They sent back the preliminary pricing on the Anthorium skirt and my heart sank. I went into wedding planning with a modest dress budget and the Anthorium was nearly double what I wanted to spend.
A wise lady who goes by the name of Mom sat me down and told me that If I didn't at least go try it on I would regret it forever. She asked me to describe the gowns my family members or friends had worn for their weddings. I couldn't. She said that this Carol Hannah dress was something people would remember in detail and talk about for years to come.
The studio experience was a little different than what others might experience going to a bridal boutique. Trying on dresses directly from the designer is somewhat limiting because you only have access to their catalog of designs, but also completely open ended, because they were able to make unlimited adjustments to the gowns.
When I arrived at the studio, the stylists had me browse the racks and encouraged me to try on items other than the Anthorium skirt, but it was an exercise in futility. I knew what I wanted, but as I tried on many different tops with the skirt I struggled to find the one that I liked. Some were too low cut, some brought out the worst in my broad shoulders, and others were just too casual. The stylist team put their heads together and decided to put me in the Bristol gown and then put the Anthorium skirt on top of it. I WAS IN LOVE!!
The team offered to merge the Bristol gown with the Anthorium skirt to create my dream dress.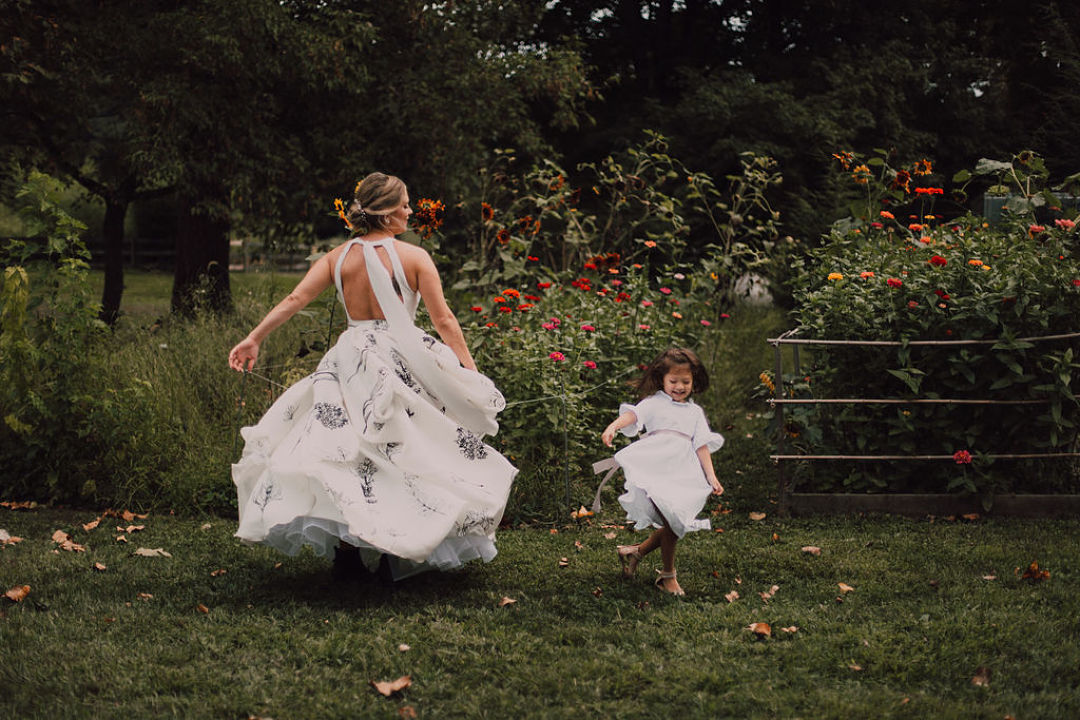 Needless to say, my Mom was right. almost two years later I'll find myself in the middle of a conversation with someone when they'll interrupt with a comment about how extraordinary my gown was. When I see pictures of our wedding day I still can't believe how fortunate I am to have worn such a beautiful and unique gown on what I still call the best day of my life.
I am forever grateful to Heritage Garment Preservation for the work they were able to do to restore my gown. After a rainy wedding day on a farm (followed by a bit of a party) my beloved gown was in BAD SHAPE
Hannah contacted Heritage Garment Preservation hoping we could SAVE her dress. Hannah had originally sent her gown to be cleaned by another company which created more issues with the dress. We had to determine what dry cleaning chemicals had been used on her dress and in a sense work backwards to be able to move forward.
The team at HGP was transparent with me every step of the process and made sure I knew exactly what was going on with the restoration of my Anthorium.
Silk is a delicate fabric and very absorbent, so it often retains stains and removal can be difficult. We gave Hannah's wedding dress hemline a chemical pre-treatment and extensive wedding dress cleaning by hand. The process was extremely tedious and the focus was to clean the skirt without causing more bleeding of the black dye from the floral sketch prints. HGP's expert cleaning returned Hannah's dream dress to PRISTINE CONDITION. We were thrilled with the results!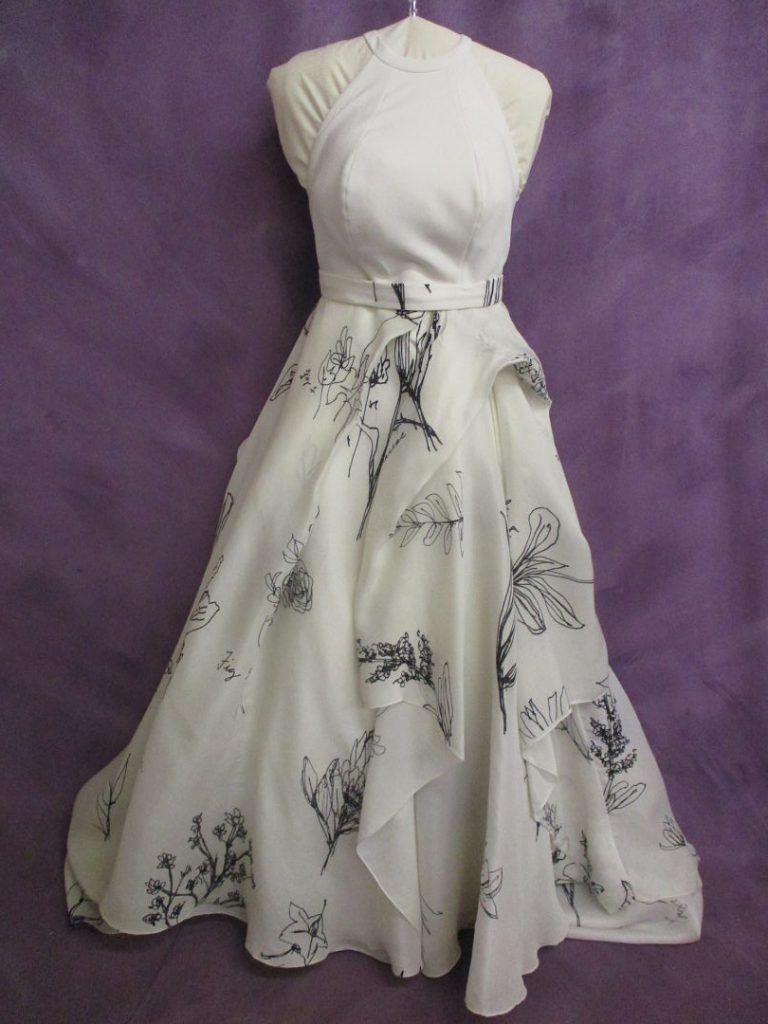 For Heritage Essentials™ and Heritage Select™ orders desiring cotton muslin fill instead of acid-free tissue. Our 100% natural, unbleached cotton muslin is used to cover bust form, wrap train and pad folds. Muslin does not break down the way that paper tissue can and will protect your wedding dress for many years to come.
Would you like to see what HGP can do with your gown?
Fill in this form for an Instant quote for our wedding gown care packages. Your estimate is Free and you are under no obligation to purchase our services. Got questions? Read our Wedding Gown Cleaning and Preservation Guide.
You can learn more about Carol Hannah's 2017 Wedding Dresses "Botanica" Bridal Collection Inspiration — Carol Hannah (carol-hannah.com)