Introducing our new facebook page at: facebook.com/heritagegown  We would love to have your smiling face holding your wedding gown (or other heirloom garment) on our new facebook page, so we are having a contest to encourage you to send us your photo!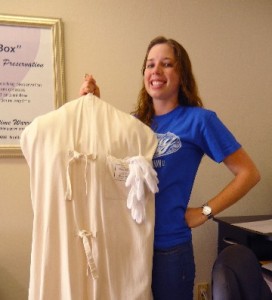 Contest Details
Prize: $100 Target gift card
How to enter:  Visit our facebook page and like us (watch our video, take our photo tour, or add a comment while you are there) and then reply to this email with  a photo of yourself holding your wedding gown or heirloom garment that we cleaned and cared for.
Winner Selection:
We will add your name into our "facebook jar" when we receive your photo and draw a name from our jar on September 31, 2012
Notification:
The winner will be announced on our blog, newsletter, telephone.  We will mail the gift card to the winner after we have confirmed the address.
That's all there is!  So visit our facebook page, like us, snap a photo, send it off and perhaps you will be the next $100 Target gift card winner.
Please note:  This contest is sponsored by Heritage Garment Preservation and not Facebook.  Sending us your photo constitutes your acceptance of our contest rules and permission for us to post your picture on our facebook page.