A Wedding Gown Cleaning
Kosin's Vera Wang gown is perfect; made of soft satin, silk organza, and Malfroy pleated tulle, this gown looks perfect with a classic cathedral-length veil. Ruffles of silk organza creates a wave-like motif. The train is embellished by silk organza leaves. When we received the dress, there was perspiration on the inside and on the edges of the straps. It was also on the underarms and the inside of the bodice. There was a small spill on the front organza ruffles and Malfroy tulle and some small drops on the satin. Several small stains were on the skirt ruffles. Likewise, dirt covered the hemlines on all layers. There had been a hole on the pleated tulle and some of the leaves were starting to fall off the dress.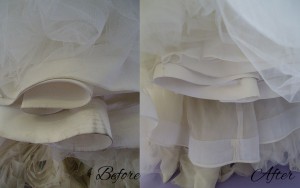 The dirty hemlines were cleaned and the holes repaired.[/caption]To give this gown the TLC it deserved, we first pre-treated the stains. We hand cleaned the hemline using the silk wet care process. We also spot cleaned the bodice and the veil. We were able to hand press the gown and veil. We trimmed the pleated tulle, secured the loose leaves, and repaired the holes. We finally topped it off with the Heritage Box™ wedding preservation to keep it beautiful for years to come.