We recently had the opportunity to restore several vintage garments for one of our customers.  The garments were quite old – between 80 – 100 years.  The group included a child's christening outfit, a unique bib of sorts, a beautiful lace vest and a simple white apron.
Vintage Garment Details
Vintage Garment – Boys Christening Outfit
The boys christening outfit was made of cotton with a lace collar and embroidery.  The vintage garment had yellowed quite evenly.  There was a missing button on the top and a broken button on the little pants.  Our great staff whitened the outfit, and replaced the missing and broken buttons creating a darling outfit that can be used for new generations or just stored as a precious heirloom keepsake.
Vintage Garment – Satin bib
The bib is made of a satin fabric (rayon or even silk perhaps), and it is hard to imagine exactly what this item was used for… wedding day tidiness perhaps?  It had yellowed evenly and so we cleaned and whitened it.  It is beautiful now.
Vintage Garment – Lace Vest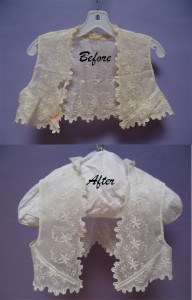 The lace vest is made of embroidered cotton batiste.  Not only had it yellowed, it was also quite fragile and had a small hole in the front.  After our cleaning and whitening it looks absolutely fabulous.  Although it was fragile it withstood the whitening process quite well.  The hole in the vest was also repaired with a small piece of organza fabric.
Vintage Garment – White Apron
The final vintage garment is a basic white apron made of cotton with lace trim.  It had yellowed and had a few small holes and oxidized stains as well.  Jennifer did a great job of whitening the apron and reweaving the small holes in the apron.
All of these restored vintage garments were preserved together in a quality acid-free preservation box and will no doubt be appreciated for generations to come. Heritage Garment Preservation offers cleaning, whitening, repairing and preserving of many vintage garments including…