A Wedding Dress Story
By Justine c.
My sister Nancy and I are best friends, so it is only fitting we got married within an 8 month time span of one another. When Nancy went gown shopping for the first time I was unable to make it and missed out on seeing quite a few dresses at Zita Bridal Salon in Milwaukee, WI. The next day we had a dress appointment at a different location, and while we saw many beautiful gowns, nothing really stuck. So Nancy suggested we swing by Zita Bridal to take a look at her two favorites from the previous day.
When we arrived at the salon (unannounced…) I went off to look at bridesmaid dresses and was in my own world, not paying attention to what dress my sister was wearing. When Nancy said my name from across the room, I turned around and gasped so loud the entire store looked at me! I gushed over how gorgeous her dress was, and I asked, "How do you even have another option in mind?" Both our mother and her mother-in-law agreed with me, but didn't want to sway Nancy's decision, knowing this was her big day and her decision to make. Although, according to Nancy, she was ecstatic by my reaction because it solidified her decision to wear that stunning Simone Carvalli dress while walking down the aisle. A perfectly beautiful bride!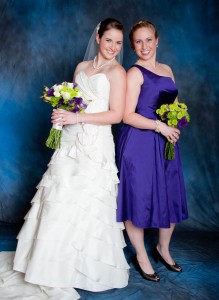 When I started looking for dresses, I had a very specific look in mind. I remember doodling images as a young girl of how I thought my wedding dress should look- a straight neckline with straps and some folding across the bodice. Not being an artist, I usually only imagined the top part of my dress without drawing a true outline or adding any details. On the first day I looked for dresses with my mom and sister Nancy, nothing fit the image I had of a perfect wedding dress and I was disheartened. My mom and I decided to go to another dress shop later that day, Vera's House of Bridals in Madison, WI (again, unannounced).
Vera's Bridal was very welcoming and was not thrown off at all by my lack of appointment, immediately assigning a bridal specialist to work with us. She took a few notes on how I wanted my dress to look and started bringing in many different options. Nothing seemed to inspire me. Finally, I tried to describe my perfect dress a different way and immediately the bridal specialist thought of a gown that was in stock. I put it on, looked in the mirror, and just knew. I think my mom had a few tears in her eyes when I told her this was exactly how I wanted my wedding dress to look. Unfortunately my sister wasn't with us at that time, but I was able to show it off for Nancy during my fittings later on.
The Blue by Enzoani dress was perfect for my summer wedding and definitely made me a beaming bride throughout the day.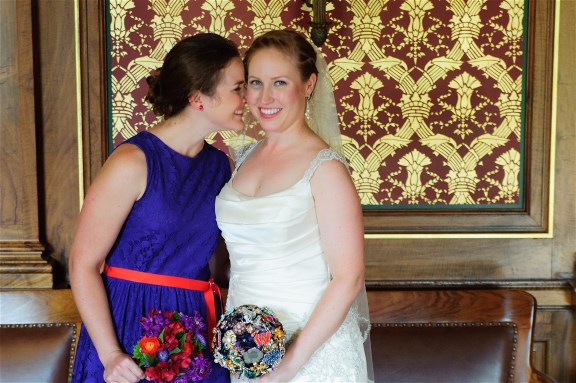 Different Wedding Gown Preservation Methods for Each Sister
Justine and Nancy are very close, but when they determined to have their wedding gowns cleaned and preserved they both chose a different wedding gown preservation method. One chose Museum Method™ (hanging) preservation and the other chose Heritage Box™ wedding gown preservation. They are both excellent methods and will protect their wedding gowns for years to come.